The BeerMongers Celebrates 10th Anniversary Week with 11 Special Collaboration Beers
|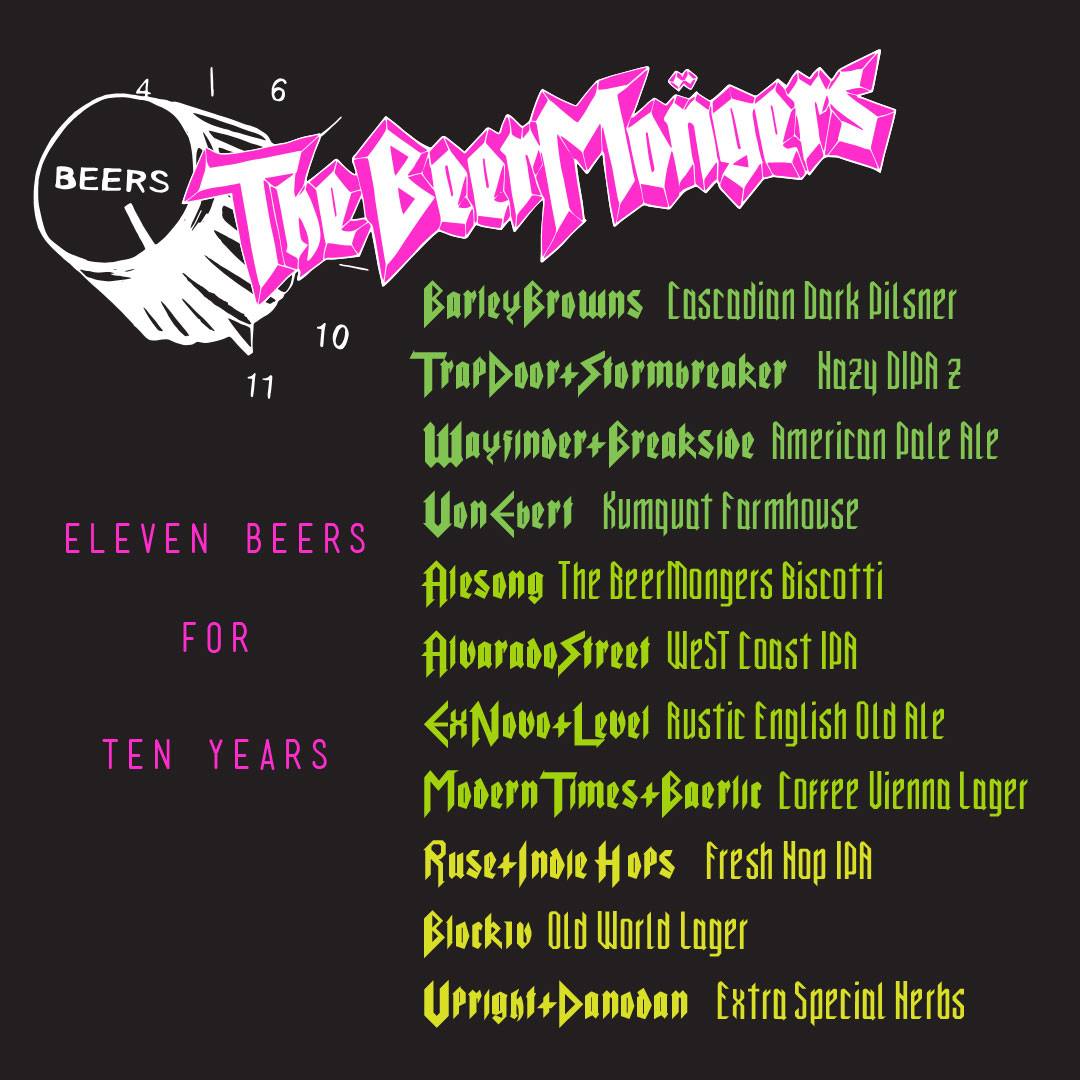 Ten years in, The BeerMongers continue to deliver being one of the best beer bars and bottle shops in all of Portland. Owned by Sean Campbell, he operates a shop that never sees a day that it is closes its doors as it is open 365 days per year, no matter what is thrown at it, even a snowpocalypse type winter storm or any holiday. It's your trusty ole' bottle shop that serves an intriguing selection of rotating drafts.
Beginning on Sunday, September 1st, The BeerMongers will set out on its 10th Anniversary Week of seven days filled of fun, beery events. The highlight of this weeklong celebration are the 11 special one-off collaborations that The BeerMongers brewed with some of the brewers in the Northwest and the West Coast who they admire and have become their close friends. The brewery lineup is quite impressive and took Sean across the Beaver State and then to California for a few long-distance collaborations. Breweries include Barley Brown's Beer; Trap Door and StormBreaker; Block 15; Wayfinder Beer and Breakside; Von Ebert Brewing; Alesong Brewing; Upright Brewing; Alvarado Street; Ex Novo and Level Beer; Modern Times and Baerlic; and Ruse Brewing.
Read More: Publican's Progress – Sean Campbell on a Decade of The BeerMongers by John Foyston
The BeerMongers first opened their doors on September 5, 2009 with a simple goal: sell a great selection of beer, curated by a knowledgeable staff. The taphouse and bottle shop has since earned a reputation for being one of Portland's best places to shop for beer, share rare and vintage bottles, and create community. As a result of this commitment, The BeerMongers has dedicated themselves to opening every day of the year, where you can always find a friendly face and a good beer.
According to Owner Sean Campbell, "We never planned on being open every day, it just happened organically." The community that has developed around that idea has been inspirational, allowing The BeerMongers to host community potlucks annually on major holidays when most establishments aren't open. "We all felt like our community needed a place to gather on holidays," says Campbell. "We are grateful to all our customers who have become our good friends, and we look forward to celebrating our first 10 years with them. Cheers!"
Over their last decade of business, The BeerMongers has consistently ranked amongst the top bottle shops and beer bars in the hyper-competitive Portland market. In 2018, The BeerMongers was selected as the Best Beer Bar in Oregon by CraftBeer.com, the online presence of the Brewer's Association, in their annual Best Beer Bars in America rankings.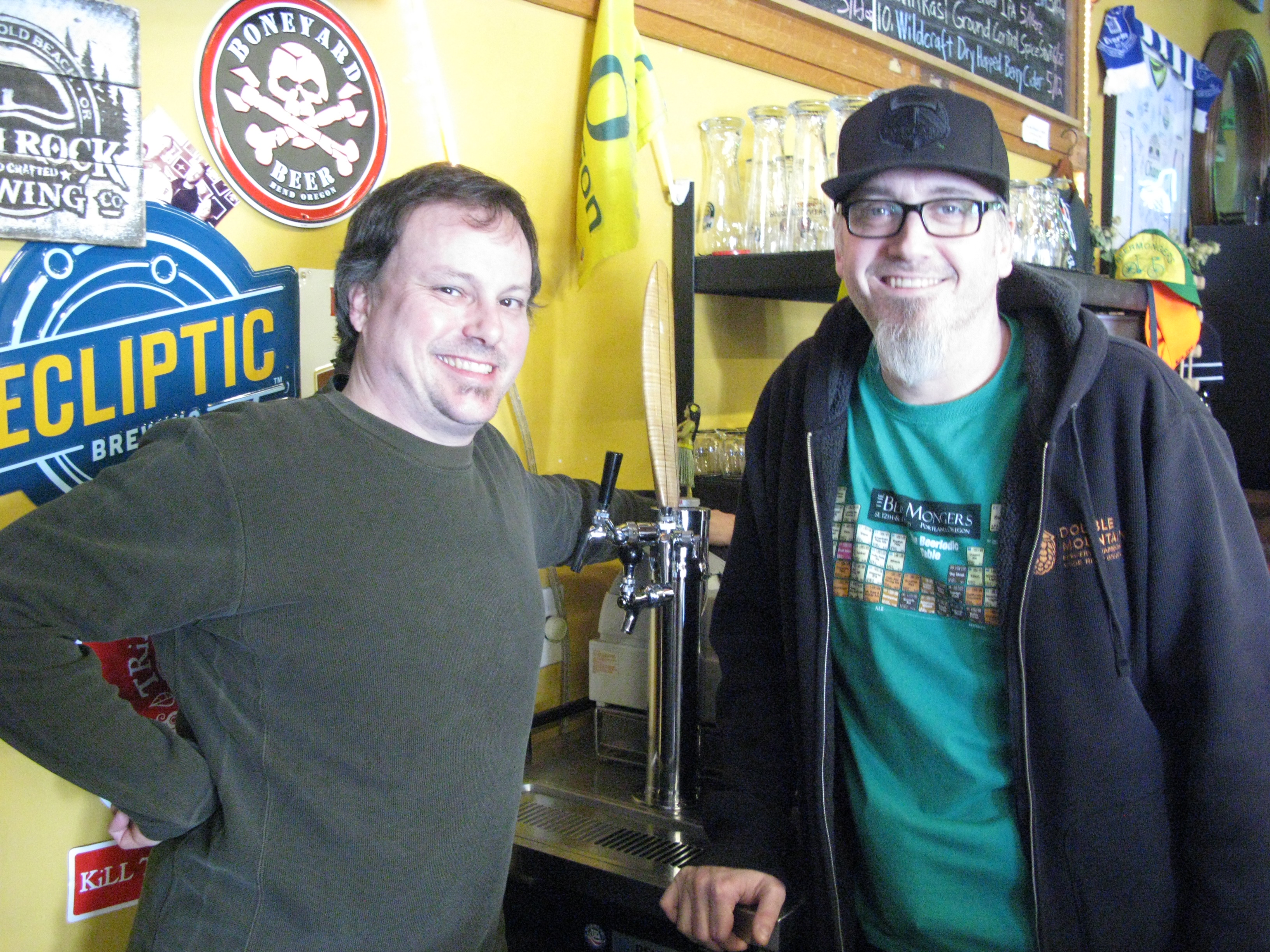 During the week leading up to the official 10th Anniversary, The BeerMongers will gradually release 11 unique and creative collaboration beers they've brewed with friends from around the region. The pinnacle of the week will be reached on what they are dubbing The Big Day: Thursday, September 5, their 10th anniversary. Each day of that week will also feature an event that highlights The BeerMongers' greater role as a beer-loving community space.
The festivities begin on Sunday, September 1 with a Vintage Beer Sale, where they will rummage through their extensive collection of carefully-aged beers and extract some treasures.
The BeerMongers 10th Anniversary Week Events:
10th Anniversary Cellar Sale
Sunday, September 1st 2019, 11:00 am
We're kicking off our 10th Anniversary series of events with an epic cellar sale, where we will be extracting many gems from our temperature-controlled beer cellar and offering them up to you! Expect vintage offerings from the best breweries, including Ale Apothecary, Cantillon, De Garde, Firestone Walker, 3 Fontienen, and many more!
Labor Day Anniversary Potluck & Cookout!
Monday, September 2nd 2019, 3:00 pm
Day two of our 10th Anniversary week will showcase our greatest strength: you! Come one, come all for a Labor Day cookout and potluck, where we will have a couple of our special anniversary collaboration beers on tap and we'll be hanging out enjoying the wonderment that is September in Oregon. Feel free to bring a dish to share, and we'll be providing some delicious food as well!
High Stakes Cribbage Tournament
Tuesday, September 3rd 2019, 5:00 pm
For Tuesday of our 10th Anniversary week-long series of events, we'll be hosting an epic high stakes cribbage tournament! Our Tuesday cribbage tourney as become a mainstay, and this one will take it to a whole other level. We will also be holding our first annual Russell Riebesehl Awards, honoring patrons who embody the generous, open-hearted spirit of our dear friend Russell Riebesehl who passed away in 2017. We'll also be slowly adding to our taplist of exclusive 10th Anniversary collaboration beers, so come see what's new as we build towards the Big Day on Thursday.
10th Anniversary Greatest of All Time Bottleshare!
Wednesday, September 4th 2019, 4:00 pm
On the eve of our 10th Anniversary, we will be hosting an epic G.O.A.T. bottleshare! This will be an amazing opportunity to taste a wide variety of rare and vintage beers provided by our amazing patrons. Bring a vintage offering from your own cellar or choose from an epic selection available from our own cellar, grab a tasting glass, and share some delicious beer! Just be sure to have a beertender open your bottle for you, and (if you bring your own bottle from home) be sure to support The BeerMongers in some way during the evening. And of course, please share responsibly.
The Big Day: Our 10 Year Anniversary!
Thursday, September 5th 2019, 11:00 am
September 5th, 2019 will be our 3652nd day OPEN in a row so we are planning a party. We have been hard at work with our friends in the beer world to come up with 10 beers for 10 years! Featuring beers from: Barley Brown's, Trap Door/Stormbreaker, Block 15, Wayfinder/Breakside, Von Ebert, Alesong, Upright/DanODan, Alvarado Street, Ex Novo/Level, Modern Times/Baerlic, Ruse/Indie Hops and a surprise or two from our cider buddies at Reverend Nat's. We will have a series of events and beer releases the whole first week of September so clear your calendars, more details to follow!
Trappist Beer Appreciation Day
Friday, September 6th 2019, 11:00 am
As we recover from our official 10th Anniversary on Thursday, we will honor the lineage of craft beer with a special Trappist Beer Appreciation Day. It's no secret that we love Trappist ales of all type – especially Orval – so we will be creating an amazing Trappist-centered experience showcasing the dedication to this special niche of the beer world. This event is not to be missed!
Outdoor Beer Garden and Games!
Saturday, September 7th 2019, 11:00 am
As we draw our week-long 10th Anniversary celebration to a close, we will enjoy the beautiful early September Oregon weather with an outdoor beer garden all weekend, including corn hole, cribbage, board games, and more! We'll have all 11 of our Anniversary Collaboration beers on tap as well, so you can keep trying all of the amazing offerings we have been so lucky to create in preparation for this milestone. Cheers!
The BeerMongers Anniversary Collaboration Beers:
Barley Brown's Cascadian Dark Pilsner (Draft)
Owner Sean Campbell and Manager Chris Tappan traveled out to Baker City and met with long-time friend Tyler Brown, owner of the multi-award winning Barley Brown's Brewery. After several long-winded conversations over beers, they decided to brew a Cascadian Dark Pilsner. Rich in flavor but light in body, this beer shows why Barley Brown's is still one of Oregon's best craft breweries.
Trap Door & Stormbreaker "Flip Ya For Real" Hazy DIPA (Draft/Cans)
Trap Door has quickly become one of our favorite breweries in the region by making excellent IPAs and creating memorable can art. Stormbreaker has been a friend of the BeerMongers since they opened five years ago and has made a beer for our bike racing team "Good to the Last Lap" Session IPA.  For this special 10th Anniversary beer they crafted a Hazy DIPA at both breweries with the usual suspects – Cashmere, Citra, Mosaic, Vic Secret & El Dorado. Each brewery made the hop additions in reverse order of the other.
Block 15 "The Pitch" Oregon Amber Lager Conditioned in Pitched Barrels (Draft/Bottles)
Nick and Chris from Block 15 hosted Sean and Chris from BeerMongers for lunch and beers back in May to discuss an Anniversary beer project. "The Pitch" is an expression of Oregon-grown ingredients paired with the Block 15 brewers' passion for honoring traditional brewing techniques. This amber Lager was brewed with Pelton, Metolious, and Lamonta malts from Mecca Grade in central Oregon, hopped with Oregon-grown Goldings, fermented with pilsner yeast and then cold-conditioned in freshly pitched oak barrels–an old world lagering technique that imparts unique notes of pint, citrus, smoke and spice.
Wayfinder & Breakside American Pale Ale (Draft)
Kevin Davey (Wayfinder), Ben Edmunds (Breakside), Sean Campbell and Chris Tappan (The BeerMongers) met over a few Lagers on the brilliant patio at Wayfinder to discuss the state of the beer world.  We were trying to come up with a beer style that would be exciting for the brewers to make and also made a statement about what we felt was going on in craft beer at this time.  We decided a crushable, flavorful American Pale Ale would be just the beer for our collaboration. Featuring some classic hops and new varieties too and coming in under 5% abv….mission accomplished
Von Ebert Kumquat Farmhouse (Draft)
Head brewer Sam Pecoraro of Von Ebert was one of the first employees of The BeerMongers.  While at the BeerMongers he introduced us to Kumquats and I have always wanted to make a beer with him and that delicious little citrus fruit.  The base beer was brewed at the Pearl location on Wednesday August 7th.  Grain bill included Pils and Vienna with Malted Wheat and Flaked Oats. Fermented with Sigmund's Voss Kveik yeast at 95 degrees this beer will condition on Kumquats until The Big Day.
Alesong & The BeerMongers Biscotti(Draft/Bottles)
"A blend of rich imperial stouts matured in Heaven Hills Bourbon barrels and finished on orange peel, cocoa nibs, coffee, Jacobsen sea salt and hazelnuts. Crafted in celebration of 10 successful years of mongering at The BeerMongers and as a nod towards the next 10!"
Upright & Danodan Extra Special Herbs (Draft/Bottles)
This version of "Special Herbs" blends Danodan's whole hemp flower extract with lemongrass, hyssop, Sichuan peppercorns, and two varieties of orange peel in place of hops, an homage to Gruit style brews.  Aged in spirit and wine casks with wild yeasts the flavor profile is a fitting tribute to the Farmhouse genre and a celebration of the end of hemp prohibition.
Alvarado Street West Coast IPA (Draft)
This beer will be brewed August 13th at the Alvarado Street pub in Monterey CA.  The plan is classic bright hoppy with a bitter finish, like an IPA from 2016.  We have become fast friends with Wade and the team from Alvarado Street in the last year and are excited to work with them to make a great IPA.
Ex Novo & Level Rustic English Old Ale (Draft)
For this project we attempted to recreate one of our favorite beers from recent years.  Some batches of the classic Burton Bridge Olde Expensive Ale picked up some brettanomyces character and we loved it.  This beer is a blend of barrel aged beers and fresh beer from both Ex Novo and Level.  "Nutty, vanilla, whiskey, mild oak, raisin and dried fruit from the caramel malt, touch of bittersweet chocolate. The Brett is light now but should develop over time, it adds subtle tartness and acidity that will disguise itself nicely in the blend."  Estimated ABV 8.5%
Modern Times & Baerlic Coffee Vienna Lager (Draft/Can)
This classic Vienna style Lager was brewed by our neighbors and friends at Baerlic with a little help from Mat Sandoval of Modern Times. Their process for utilizing coffee (roasted at Modern Times) made this beer the perfect combination of traditional and modern brewing techniques and the spirit of collaboration.
Ruse & Indie Hops Fresh Hop IPA (Draft)
Mysterious….we love Ruse and in a few short years they have made their mark on the Portland beer scene.  This project is a work in progress.  Our neighbors in the Ford Building Indie Hops assured us there will be some Fresh Hops available in time for a Fresh Hop IPA likely with experimental hops…we will find out on September 5th!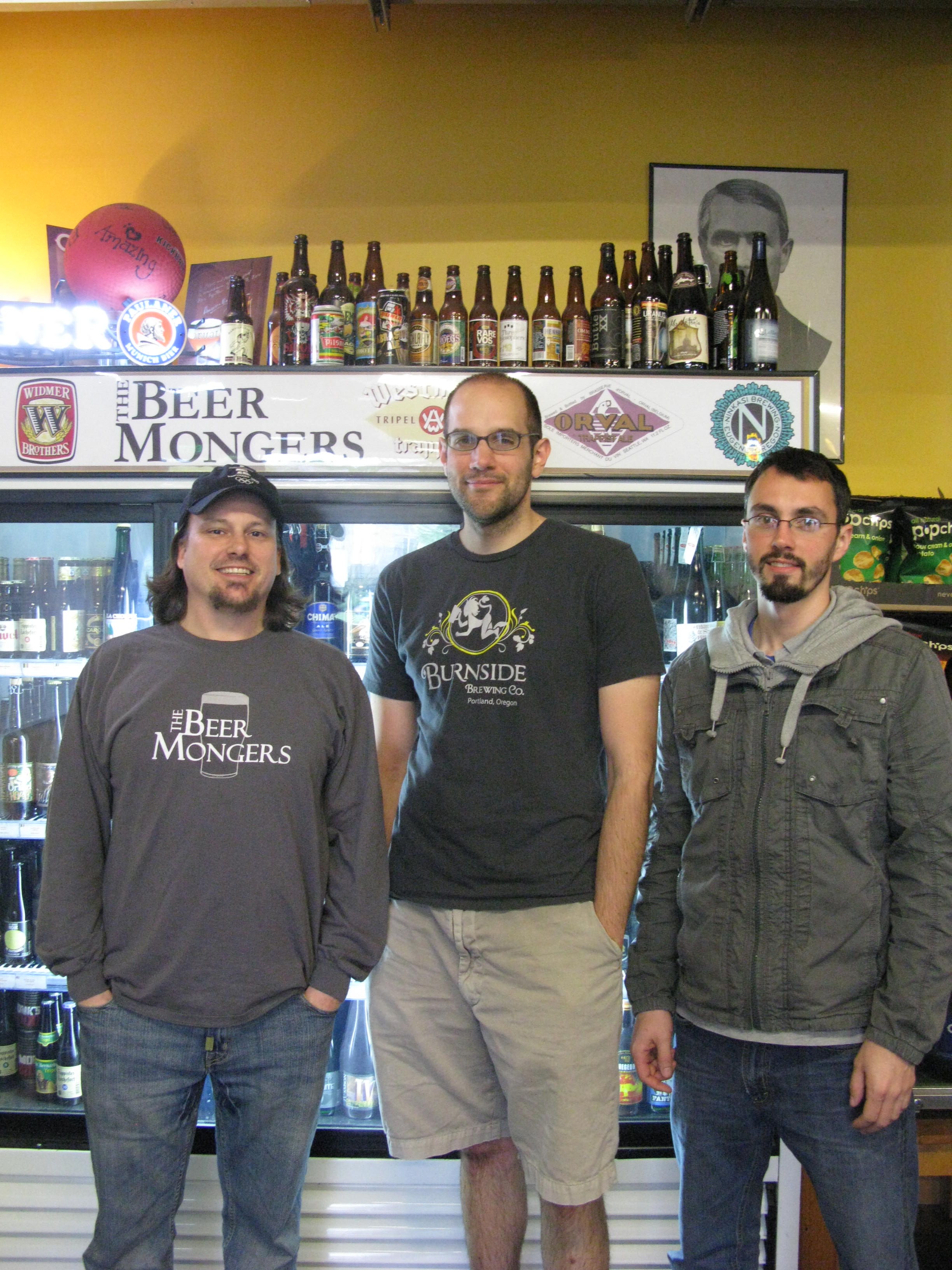 Congratulations to Sean and his team over the past ten years for providing great beer, fun time and most importantly, great memories! It takes a lot to open your doors for 3,652 consecutive days!
The BeerMongers
1125 SE Division St.
Portland, OR 97202