Preview of the New Hopworks Urban Brewery In Vancouver
|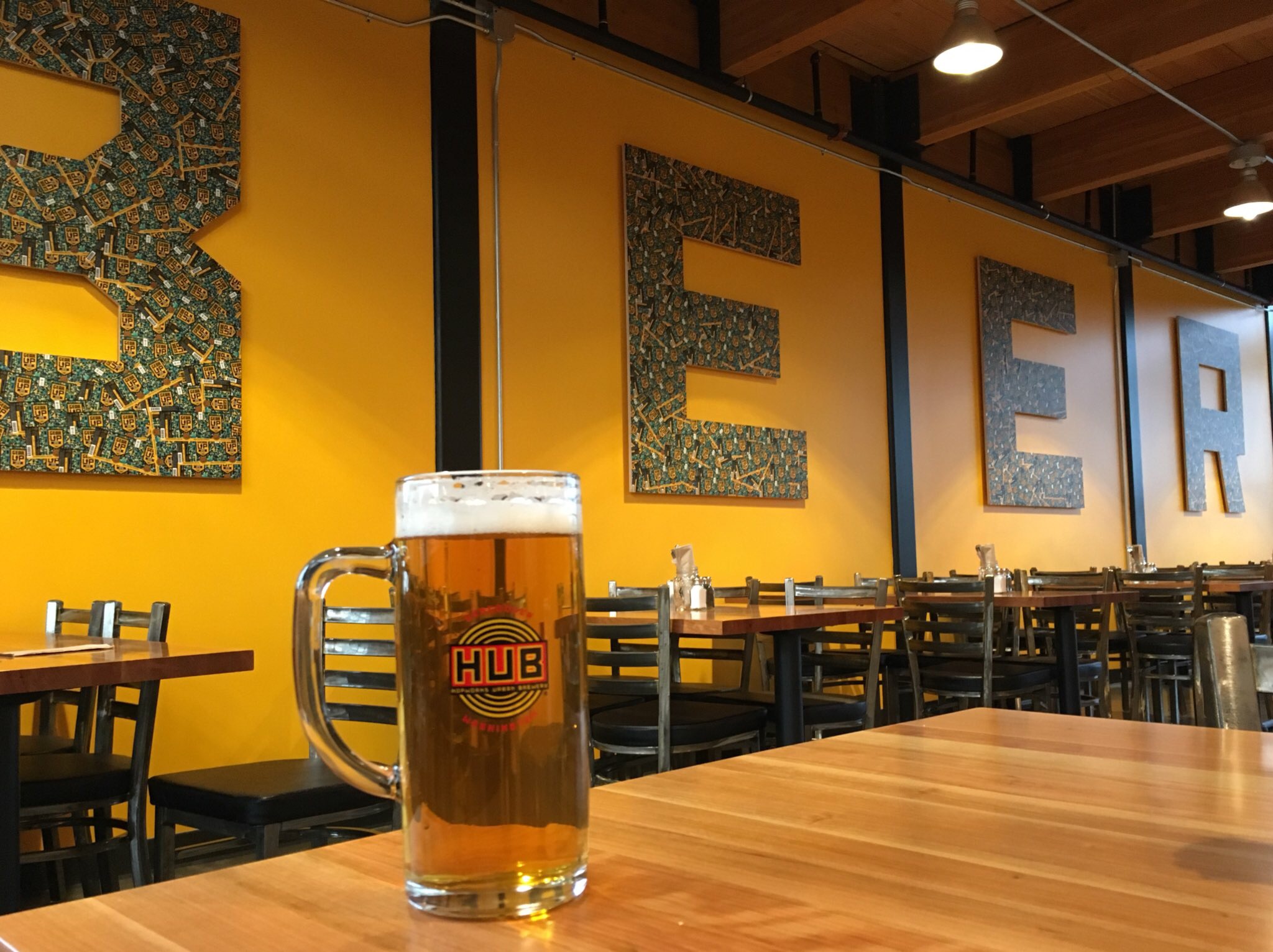 Nine years ago in 2007, Christian Ettinger brewed the first beer, Organic Hopworks IPA, at the then soon to open Hopworks Urban Brewery in Southeast Portland. Since the brewery's inception its commitment to energy efficiencies and the environment were at the forefront and is part of the brewery's mission statement. Our mission is to revolutionize and inspire the brewing industry with practices that drive quality, protect the environment, and improve the community we live in. Most recently the brewery became the first Certified B Corporation brewery in the Pacific Northwest.
After officially announcing its plans to open a new brewpub in July 2016, today Hopworks Urban Brewery takes its next step and opens its new brewpub on the eastside of Vancouver, Washington at 11:00am. The new location was designed and constructed by Portland based Siteworks Design Build, the same firm that built Hopworks BikeBar in 2011.
Located next to a neighboring TownePlace Suites and sprawling residential area, this new HUB location is sure to be a hit with the locals. "We are a neighborhood brewery," said Hopworks Brewmaster and Founder, Christian Ettinger in a statement. "Part of being a good neighbor is simple – treat the neighborhood with love and respect, and always serve your neighbors the best beer you can. Vancouver is packed with families and people who love craft beer, and it has a rich brewing history. There is such a great community feeling here, so we are happy to share our beer and space with the people of this beautiful city."
With an inviting 6,000 square foot brewery and restaurant with seating for about 300 people, the space offers up a very similar feel and vibe as HUB's two other locations. Above the long bar that looks into the brewhouse are the typical bike frames that one comes to expect at HUB. One can choose from a selection of 21 taps but one thing currently lacking is a cask engine. Behind the bar area is all ages seating that also sits underneath the Mountain Mezzanine, its upstairs area that offers views of Mt. Hood on a clear day also features a family friendly area.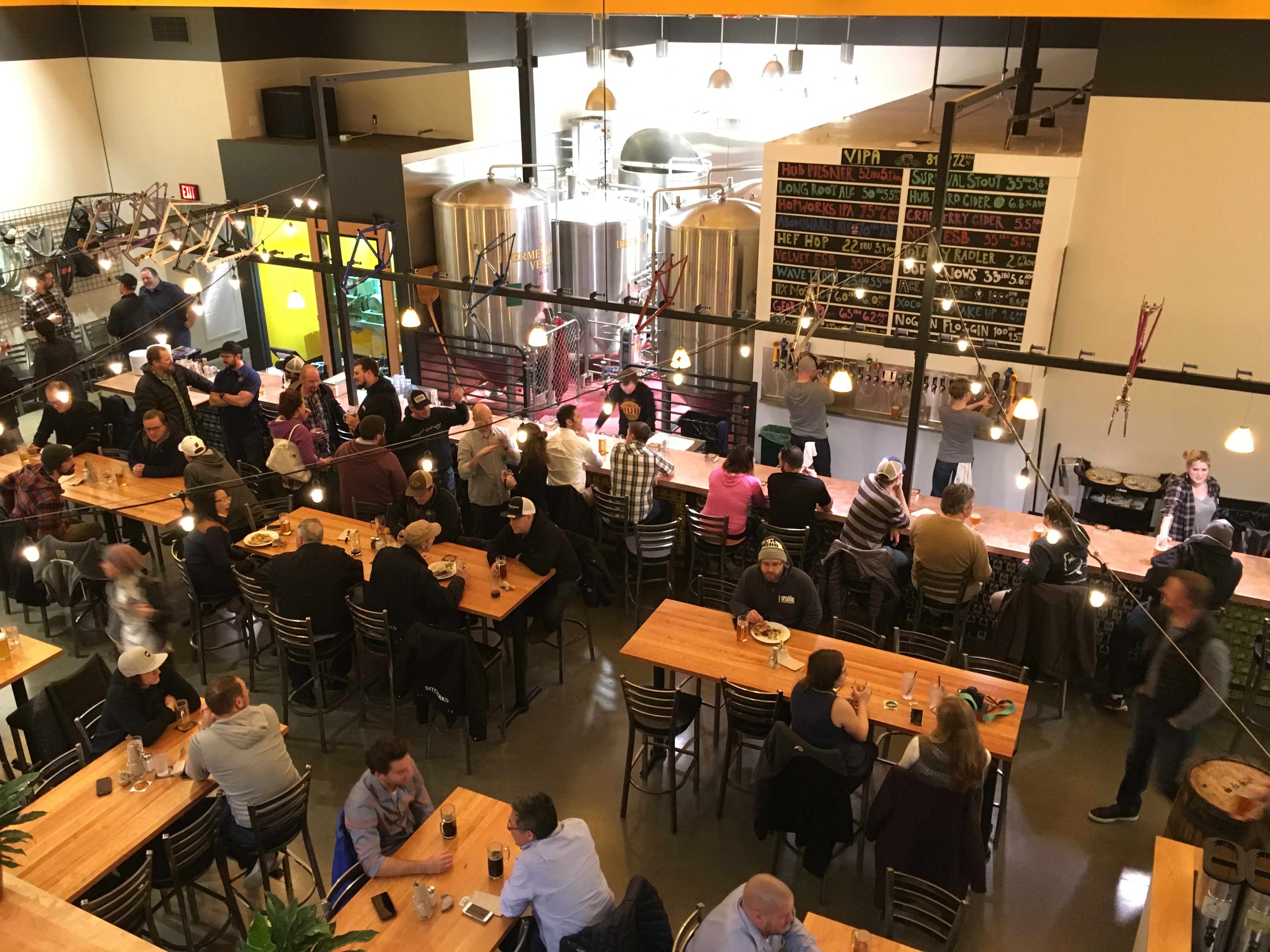 The food menu at HUB – Vancouver is also similar to its other two locations focusing on pizza, sandwiches and burgers. For this location HUB is also working on a few new, exclusive items that can be perused here.
Then when it comes to its brews, as we first reported, longtime HUB brewer Matt "Speck" Speckenbach will be taking the reigns in Vancouver. Though the brewhouse is not up and running quite yet, HUB stayed true to its principals and chose a system that could be overhauled and reused in lieu of having resources build a new one. This brewhouse is one that has a lot of history and distance from where it once was located.
Last evening from touring the new location we learned that the brewhouse came from a closed down Rock Bottom location in the Washington DC area. After doing a bit more research we have come to find out that the brewhouse and its tanks once called Rock Bottom – Arlington, Virginia home. During its run over the years until its closing earlier this year, this brewery garnered up a few awards at both the Great American Beer Festival and World Beer Cup. For us it's pretty sweet to see a brewhouse that a friend of ours, Chris Rafferty, once brewed on.
With a goal of getting the 8-barrel Brewhouse along with 3 16-barrel Fermenters and 6 16-barrel Brite Tank/Serving Vessels up and running in about thirty days or so, Speck will be brewing up unique beers for the Vancouver market. However, prior to the brewhouse's operation, Speck has brewed a beer exclusive to the Vancouver location with HUB's new Vancouver IPA. Featuring Amarillo and Mosaic hops, this new Vancouver IPA is 7.2% ABV and 85 IBU IPA. "It's a little citrusy but I definitely wanted the hops to come through," stated Speckenbach at last evening's preview. The recipe may be tweaked a bit once it moves over from its production in Portland to Vancouver.
Hopworks Urban Brewery – Vancouver is located at the intersection of two connecting bike paths and in a building that is a Salmon-Safe Certified development, and is open daily at 11:00am.
Hopworks Urban Brewery – Vancouver
17707 SE Mill Plain Blvd.
Vancouver, WA 98683