Lompoc Brewing Releases Eight Beers For Its 2018 Holiday Beer Extravaganza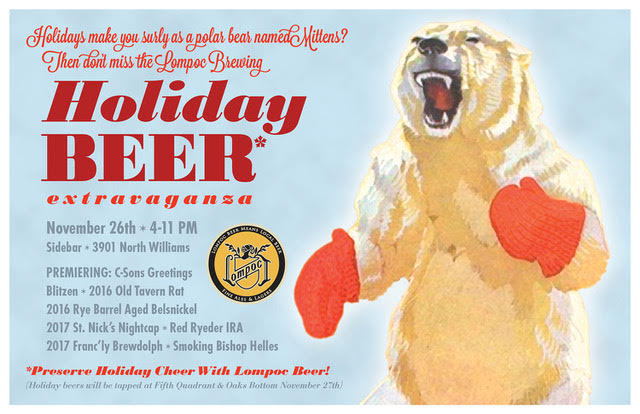 Returning with the holiday festive spirit once again is Lompoc Brewing as it will release eight holiday beers on draft this season. The eight beers that Lompoc will release for its 2018 Holiday Beer Extravaganza includes Blitzen, Smoking Bishop Helles, Red Ryeder IRA, C-Sons Greetings Imperial IPA, 2016 Old Tavern Rat, and 2016 Rye Barrel Aged Belsnickel.
The 2018 Holiday Beer Extravaganza will take place on Monday, November 26th from 4:00-11:00pm at Lompoc Sidebar. The beers will go on tap at Oaks Bottom and 5th Quadrant on Tuesday, November 27th. C-Sons Greetings, will also be released in 22-oz. bottles and will be available at the release party.
Here's a preview of the eight beers that are part of Lompoc's 2018 Holiday Beer Extravaganza.
Blitzen: A bright, straw-colored holiday favorite, this golden ale is dry hopped with Centennial hops, orange peel, coriander, and cinnamon. The hops and orange peel combine for a citrusy aroma and flavor with a slight spice finish. Something tells us Rudolph won't be your favorite reindeer anymore! 4.6% ABV
Smoking Bishop Helles: Let us take you on a holiday journey with this German-style lager that was brewed with smoked malts from Weyerman Malting. With an aroma that will remind you of cozying up to the fire, this golden lager has a crisp and dry finish. 5.1% ABV
Red Ryeder IRA: This India red ale is a collaboration with Nomcraft Brewing out of Aridagawa, Japan. Crimson in color with a citrus and spice profile, it's everything you'll want on your Christmas list…just be careful not to shoot your eye out! 6.7% ABV
C-Sons Greetings Imperial IPA: A deep copper colored ale brewed and dry-hopped with all seven "C" hops for a piney, citrusy, floral and resinous aroma. C-sons Greetings offers a full hop flavor with a rich caramel malt finish and an endless developing hop presence. 8% ABV
2016 Old Tavern Rat: A dark amber colored barley wine that was aged for two years prior to its release, this barley wine features a strong bitterness that is balanced with the sweetness of caramel and toffee flavors. 9.4% ABV
2016 Rye Barrel Aged Belsnickel: Whether you've been impish or admirable, a visit from Belsnickel is a critical part of Christmas. This robust American porter was aged in Heaven Hill Distillery rye whiskey barrels for two years. Hints of oak, chocolate, tobacco, and roasted malts permeate the palate. 6.2% ABV
2017 Franc'ly Brewdolph: This Belgian-style red ale was aged in Maryhill Winery Cabernet Franc barrels for 11 months. It has an oaky aroma with a mild fruitiness, finishing with a spicy clove flavor. Sure to go down in history. 7.7% ABV
2017 St. Nick's Nightcap: This Bier de Garde is a malt-forward French style pale ale that was aged for 17 months in Maryhill Winery Cabernet Sauvignon barrels. Reddish-bronze in color with a toasted oak aroma, it has a malty sweetness with flavors of rhubarb and tart cherry. 7.2% ABV
Lompoc Sidebar
3901 N Williams Ave.
Portland, OR
About The Author
DJ
D.J. is a Portland, Oregon based writer that spent his formative years in the Midwest. With over 25 years under his belt of drinking beer at festivals across America and the world, he has developed a strong appreciation and understanding of craft beer and the industry that surrounds it. He can be found in any of the great breweries or beer bars that make Portland the best beer city in the world. His writing can also be found in the archives of Northwest Brewing News and can be followed on Twitter and Instagram at @hopapalooza.