Dogfish Head Partners with the new film Asteroid City
|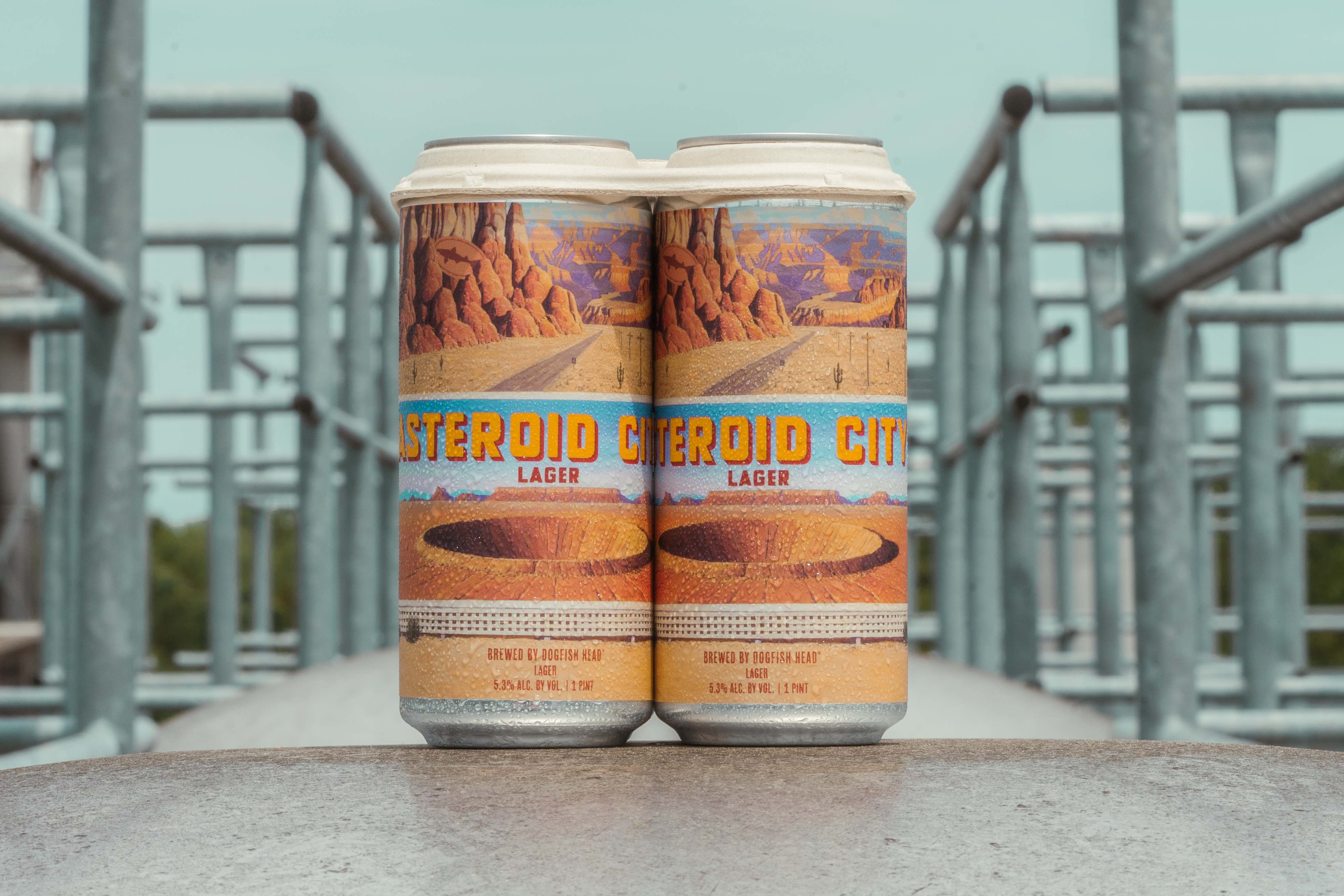 Beer and film come together when Dogfish Head Craft Brewery teams up with Wes Anderson on his new film Asteroid City. The result is the limited-edition Asteroid City Lager.
Anderson's new Asteroid City takes place in a fictional American desert town circa 1955, when the itinerary of a Junior Stargazer/Space Cadet convention is spectacularly disrupted by world-changing events.
Asteroid City Lager brings this film to a beer. It's brewed with regeneratively grown pilsner malt, Tuxpeno corn malt and Zuper Saazer hops for subtle notes of savory corn and a whiff of wild blossoms and herbs. Asteroid City Lager was then finished with a mid-20th century Pennsylvania lager yeast as a nod to the 1950s era during which Asteroid City takes place. Not to mention, the beer's label – developed in collaboration with Wes Anderson, himself – features artwork centered on one of the film's most eye-catching images; essentially, it is a billboard advertisement for a billboard advertisement.
"The magical, whimsical worlds Wes Anderson has created in his movies have been touchstones for our off-centered brand throughout the years," said Dogfish Head Brewer & Founder, Sam Calagione. "From the playful and colorful design of our canal-front hotel, the Dogfish INN, to the vibrant and refreshing vibes of this Asteroid City Lager beer, Wes' work inspires us, and this collaborative beer is a liquid celebration of this new frontier Wes and the entire team behind 'Asteroid City' have created."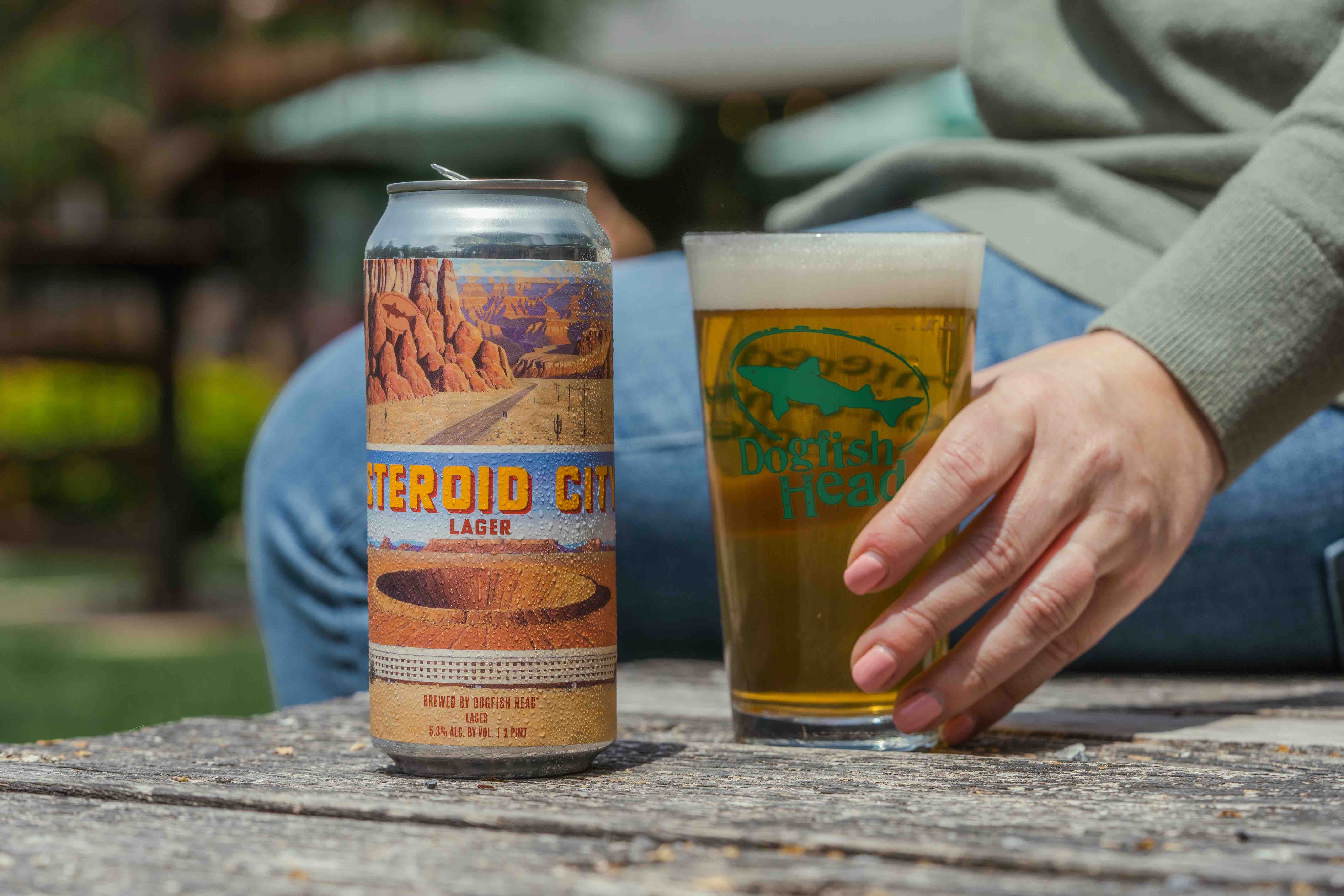 Asteroid City Lager will be available to enjoy during Asteroid City screenings at select Alamo Drafthouse locations nationwide, including those in New York City, Austin and Denver. For the perfect pairing, guests can attend one of the cinema's Asteroid City Chili Supper Screenings, where a custom, pre-set menu featuring chili, hotdogs, grilled cheese, themed popcorn and Asteroid City Lager will be served. Tickets for Alamo Drafthouse screenings of Asteroid City are on sale now at www.drafthouse.com/show/asteroid-city.
In addition to Alamo Drafthouse, Asteroid City Lager will be available for purchase both on draft and in 4pk/16oz cans at Dogfish Head's coastal Delaware locations, as well as at other regional retailers.
Asteroid City stars Jason Schwartzman, Scarlett Johansson, Tom Hanks, Jeffrey Wright, Tilda Swinton, Bryan Cranston, Edward Norton, Adrien Brody, Liev Schreiber, Hope Davis, Stephen Park, Rupert Friend, Maya Hawke, Steve Carell, Matt Dillon, Hong Chau, Willem Dafoe, Margot Robbie, Tony Revolori, Jake Ryan, and Jeff Goldblum. The film opens in limited theaters in NYC and LA on Friday, June 16th and expands nationwide on June 23rd.
For more on Dogfish Head and Asteroid City Lager, visit www.dogfish.com. To learn about Asteroid City, check out www.focusfeatures.com/asteroid-city.