Double Mountain Brewery 2022 Killer Fresh Hop Releases
|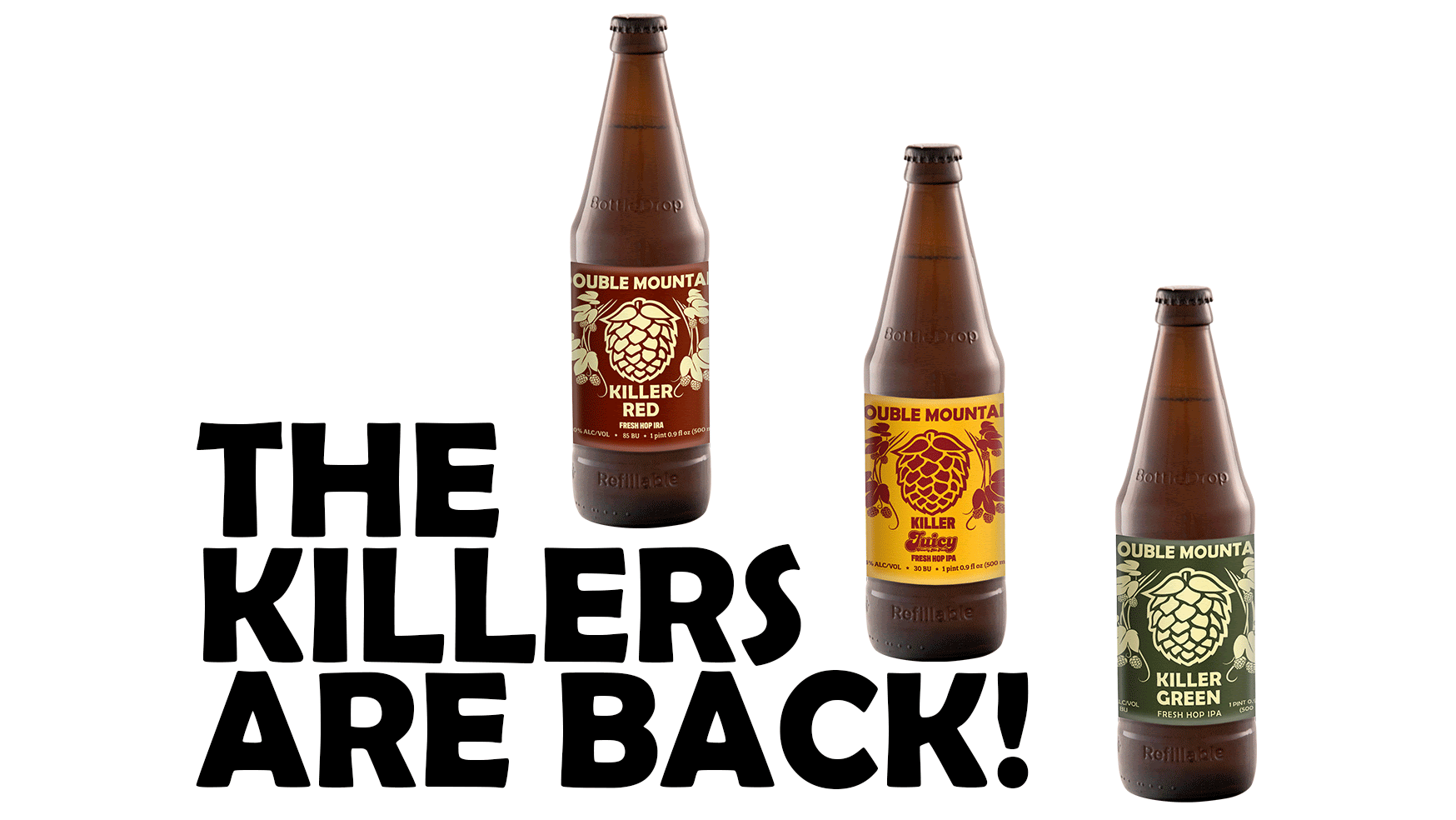 While in the midst of the 2022 hop harvest, Double Mountain Brewery offers its fans a bit of a surprise this season with a new fresh hop version of one of its most popular seasonal beers.
Yes, the Hood River brewer has returned with Killer Red, Killer Green, and Killer Juicy but have added Killer Fa La La La La to its fresh hop lineup. Fa La La La La Winter Ale gets the fresh hop treatment this year with freshly picked Centennials!
Here's a breakdown on the four releases with descriptions provided by the brewery.
Killer Red
Killer Red is the first fresh hop beer we make each year with the first Centennials off the bines at Crosby Farms, the hops arriving within two hours of being harvested. Piles of the fresh hops are heaped in to the secondary for a massive dry hopping, giving this IRA aromas of Northwest rain forest, tangerine, and ripe grapefruit. Balanced, smooth and wonderfully aromatic, and a lovely rusty hue. 7.0% ABV 78 BU
Killer Green
It's that time again. We bring you Killer Green, loaded with Strata picked fresh from Crosby Hop farms. These juicy little pearls were jam packed with sticky lupulin this year, delivering ripe citrus, dewy evergreen, and some lovely tropical cannabis aromas. Be Green. Drink Killer Green. 7.3% ABV 95 BU
Killer Juicy *Not available till later this week
A dense tropical rain forest drips with sticky, delicious mango, ripe summer peach, light cannabis, and deep orange. With Strata hops this fresh from our friends at Crosby Farms, the decision to make this beer was the right call. Clearly. 5.4% ABV 25 BU
Killer Fa La La La La *Draft only
Well, we couldn't wait. Our Fa La La La La Winter Ale is loaded with Centennial hops, and with all the fresh hops rolling in, we decided to have Christmas a little early. This version of Fa is loaded with fresh Centennials, giving all their lovely juicy pine, Meyer lemon, and blood orange, with a touch of caramel. Why wouldn't ya? 7.3% ABV 85 BU
Killer Red, Killer Green, and Killer Juicy are available in refillable 500mL bottles and on draft. Killer Fa La La La La is available only on draft. All four fresh hop beers can be purchased at Double Mountain's Hood River Taproom, SE Portland Taproom in the Woodstock neighborhood, and at select retailers throughout the Northwest. Learn more at www.doublemountainbrewery.com.