Great Notion Brewing To Release Bourbon Barrel Double Stack In Exclusive Gift Box
|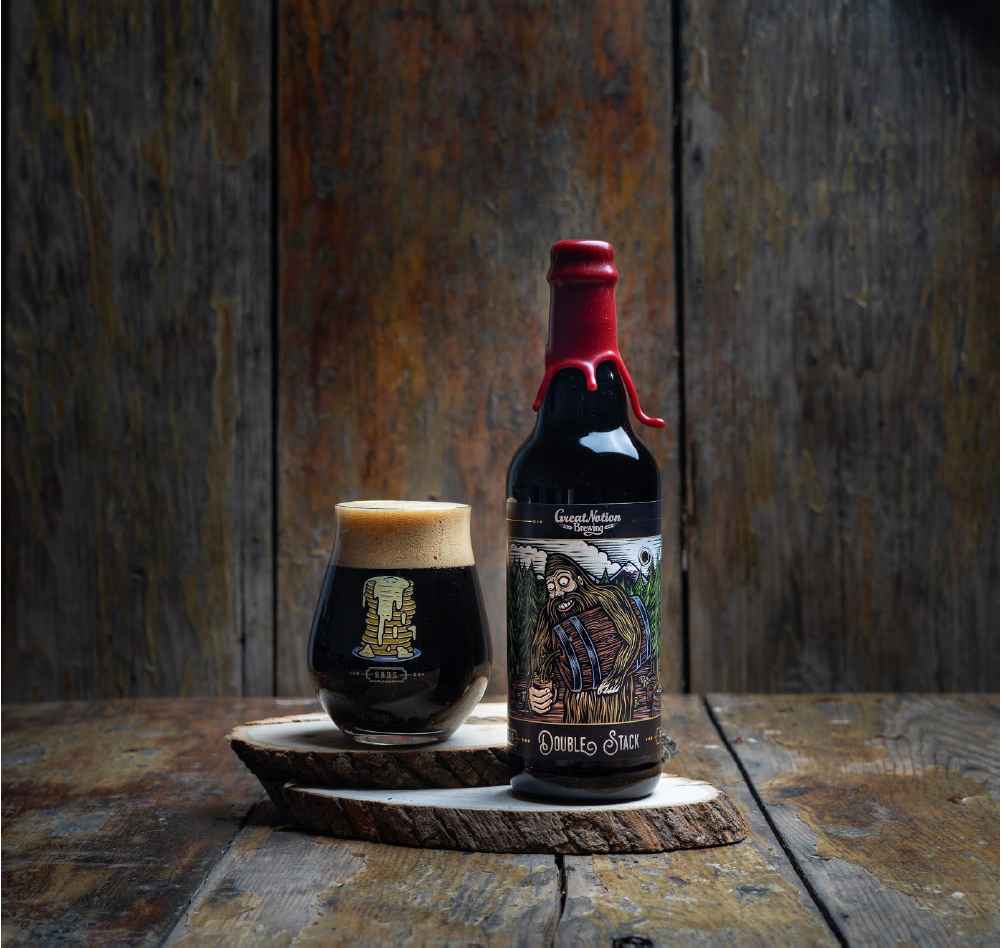 One of Portland's hottest breweries is set to release an exclusive, very limited gift box of one of its most sought after beers. On Saturday, December 15th at 11:00am, Great Notion Brewing & Barrel House will release its Bourbon Barrel Double Stack in an exclusive gift box at its production facility in Northwest Portland.
The base beer of this barrel aged beer is Double Stack, an Imperial Stout fermented with substantial amounts of maple syrup, then aged on whole bean Sumatra from local Portland roastery, Clutch Coffee. This decadent stout recently won a Gold Medal at the World Beer Cup 2018 Awards and a Silver Medal at the 2018 Great American Beer Festival. Double Stack also has a 4.53/5.0 rating on Beer Advocate.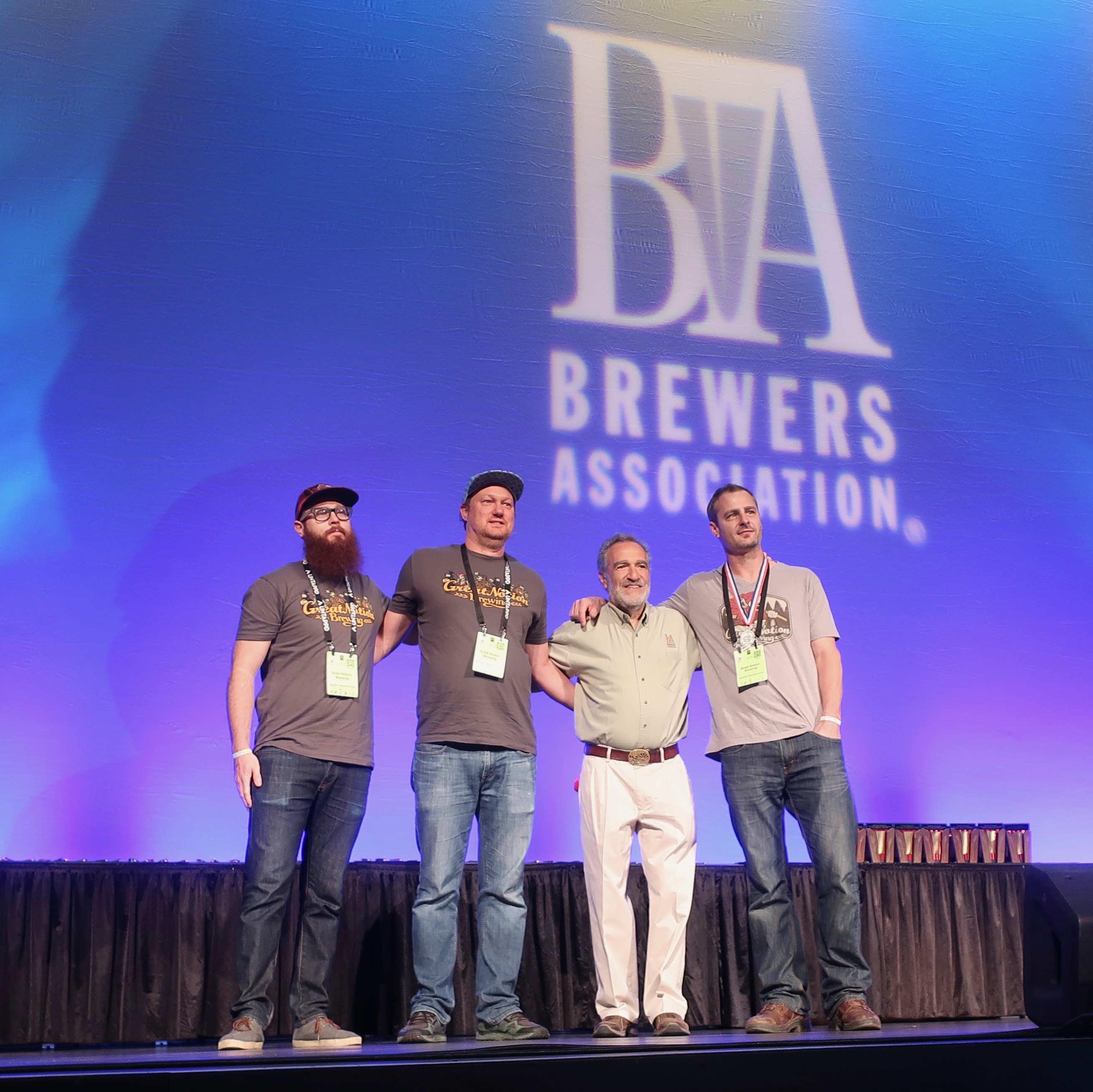 To make Bourbon Barrel Double Stack, Great Notion take its Double Stack and transfers it to freshly-emptied Bourbon barrels. A large portion of the barrels are from local distillery, Bull Run Distillery, along with barrels from Woodford Reserve and Heaven Hill Distillery. Now over two years later, Great Notion has selected its favorite barrels of Bourbon Barrel Double Stack to blend and be bottled in 500mL bottles.
"This release has been a long time coming; two years to be exact," said James Dugan, Great Notion Co-Founder/Co-brewer of Great Notion in a statement. "The aging process has lended notes of bourbon, vanilla, maple sap, and oak. The body is rich, the maple is vibrant, and the alcohol content has increased to 13.2% We've thoroughly enjoyed creating BBDS and couldn't be happier with the final product."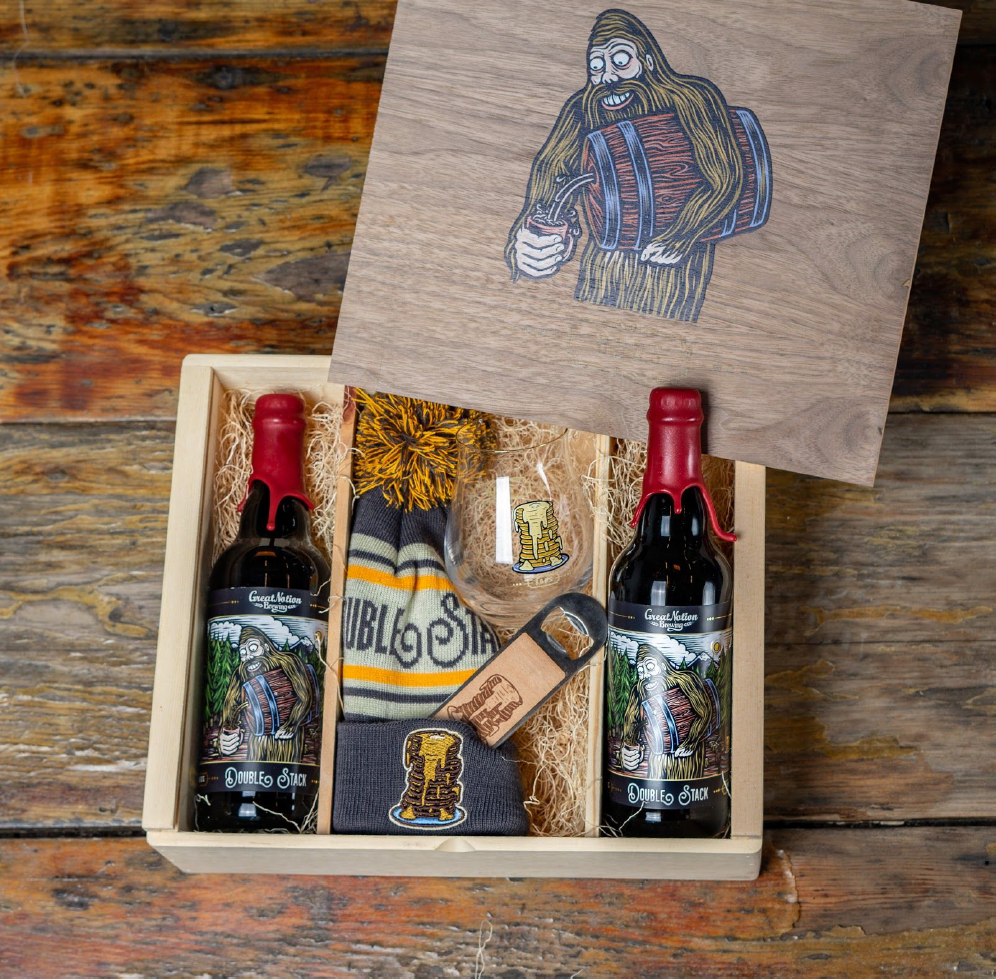 On Saturday Bourbon Barrel Double Stack will be sold in a collector's edition holiday gift box and will include the following:
A custom-built wooden box screen printed on a walnut lid with the Double Stack Sasquatch on one side a double stack of pancakes on the other
Two x 500 ML wax-dipped bottles of Bourbon Barrel Double Stack
A limited edition BBDS Stemless Sahm Sensorik glass imprinted with pancakes, the release year, and a gold-dipped rim
A pancake pom-pom Double Stack beanie
A Double Stack wood and stainless-steel double-sided paddle bottle
There will be only 500 holiday gift boxes for sale on the morning of December 15th for $125 each. Yes, it's a bit on the pricey side but the demand for this beer will be strong and the brewery will get the best ROI for this limited beer that has been aging for over 24 months.
Local beer drinkers will also be able to buy a limited amount of single bottles of BBDS at a future date that's yet to be determined. Draft pours of BBDS will be available at GNB's 2204 NE Alberta Street taproom the week of December 17th. Check out Great Notion's social media to find out exactly when this will be tapped.
"This release of BBDS makes us reflect on the past," said Great Notion Co-founder/Co-brewer Andy Miller in a statement. "I remember filling our first barrels at our St. John's storage facility in the summer of 2016. We took a picture of the barrel and posted it to Instagram, not knowing how much interest it would generate. Initially, we thought it may take eight to nine months, however it would be over two years later before we were ready to release it. We could only fill one barrel at a time because we didn't have the capacity to spare any more. Looking back, BBDS truly has been a labor of love!"
Great Notion Brewing NW Production Facility
2444 NW 28th Ave.
Portland, OR 97210