Pelican Brewing To Release 2018 Mother of All Storms During Take Flight Event
|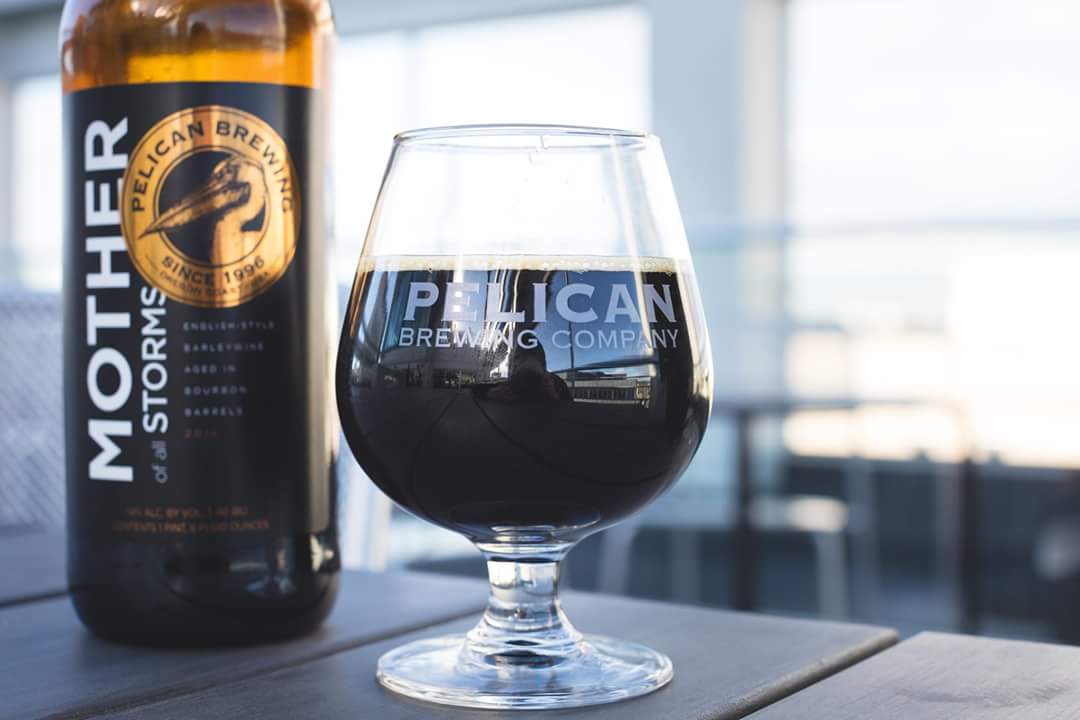 Pacific City, Oregon (October 18, 2018)—Pelican Brewing Company crafted a sensation when it released Mother of All Storms bourbon barrel-aged barleywine in 2009. It soon became a highly-coveted collectable and has been named one of the Top 100 Beers in the World and Top 25 Barrel-Aged Beers numerous times.  Now with a nod to the popularity of 'Mother'—and all of its barrel-aged releases that have since joined the flock—Pelican hosts a festive flight tasting and beer cuisine pairing.
Registration for Take Flight events in Cannon Beach, Friday, November 16, and Pacific City, Saturday, November 17, are now open!
Fellow fanatics who would like to pre-order a case of 2018 Mother of All Storms for direct shipment can click here.
Take Flight, Cannon Beach, Friday, November 16, 4:00—6:00 p.m.
Take Flight escorts barrel-aged beer fans on a guided flight of Pelican's current barrel-aged lineup including Captain of the Coast, Queen of Hearts, Father of All Tsunamis and longtime favorite, Mother of All Storms—all paired with appetizers to evoke the unique flavors of both beer and food. Pelican's Cannon Beach-based brewer, Coren Tradd, will talk about the inspiration, unique character and profile of each beer and how the beers pair with the perfect bites. The event is limited to 20 guests and tickets are $45 and must be purchased in advance to reserve your spot. Twenty-one and over, please.
Take Flight, Pacific City, Saturday, November 17, 4:00—6:00 p.m.
Pelican's founding brewmaster, Darron Welch, will conduct the barrel-aged guided tasting for up to 80 guests. Tickets are $45 and must be purchased in advance to reserve your spot. Register here for this special Pelican event.
Take Flight guests will sample current releases of Mother of All Storms; Captain of the Coast, Wee Heavy Ale aged in Dry Fly Wheat Whiskey barrels; Father of All Tsunamis, Imperial Stout Ale aged in Rye barrels; and Queen of Hearts, Saison Ale aged in Gin barrels. All beer will be paired with appetizers especially created for each brew.
"The Take Flight event takes the principles of the beer and food pairing that we use for our Brewers Dinners: we wanted to offer guests an opportunity to taste each beer of the Barrel-Aged series side by side, along with appetizers that have been specifically designed to highlight, enhance and complement the deep, complex flavors of each beer," says Darron Welch, founding brewmaster at Pelican. "When it's done right, the combination of great beer and perfect food pairing equals more than the sum of the parts themselves.  This is what we are aiming for with the Take Flight event – memorable beer, food and pairings that elevate beyond expectations."
Guests who want to make it a weekend of festivity in Pacific City can find exceptional lodging options at Your Little Beach Town.