Boulevard Brewing Co. Launches Boulevard Beverage Co. Fling Craft Cocktails
|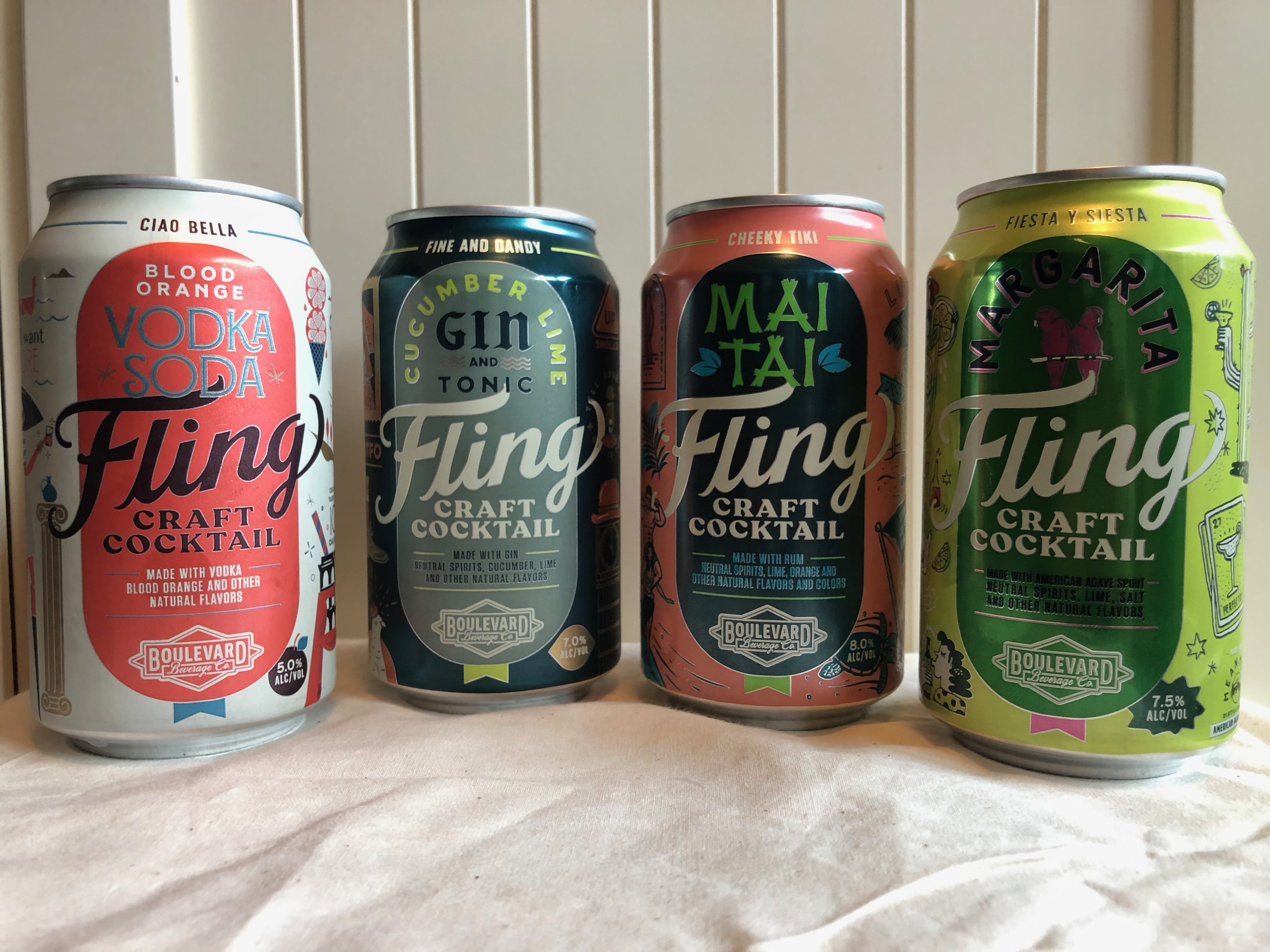 After 30 years of brewing, Boulevard Brewing Co. has stepped outside of brewing to enter the rapidly growing canned cocktail segment. About one month ago Boulevard Brewing launched its new offshoot, Boulevard Beverage Co. and its new line of Fling Craft Cocktails.
Part of the Duvel Moortgart family, Boulevard Brewing beers are currently available in 41 states and 11 countries. Now as the craft beer market steadily becomes a bit more saturated, Boulevard has begun to diversify its craft beverage portfolio to now include ready-to-drink (RTD) canned cocktails in 12oz 4-packs.
Our first exposure to canned cocktails was from Ballast Point Brewing & Spirits which changed to Cutwater Spirits after the brewery was sold to Constellation Brands in 2015. Just recently, Cutwater Spirits was sold to Anheuser-Busch InBev and will be part of the conglomerate's Beyond Beer business group. More locally to us in Oregon, 10 Barrel Brewing, also part of A-B InBev will soon enter the canned cocktail segment as the brewer has been teasing this new line extension on its social media platforms.
Boulevard's entry into this segment of canned cocktails will initially offer four flavors – Blood Orange Vodka Soda, Cucumber Lime Gin and Tonic, Mai Tai, and Margarita. To acquire the distilled spirits used in these RTD canned cocktails, Boulevard is not getting into the distilling business but instead is working with other suppliers. These suppliers include McCormick Distilling Company, Restless Spirits, Mean Mule Distilling and a non-disclosed imported rum.
The lineup of Fling Craft Cocktails features all-natural ingredients and are gluten free. The alcohol content varies from the 5% ABV Blood Orange Vodka Soda to the 8% ABV Mai Tai. Boulevard is also highlighting the drinks lower calories and carbs for today's growing trend of health-conscious alcoholic beverages.
"Our little side hustle started as an interesting diversion, but it's taken on a life of its own," said Boulevard president Jeff Krum in a statement. "While we'll always remain first and foremost a craft brewer, sometimes you just want something different. We have the facilities and the equipment and the talent to make all kinds of interesting and delicious beverages, and we're excited by the opportunity to give consumers more choices, to go where they go. Plus, we're having more fun than is probably legal."
From our sampling of all four flavors, all four are quite enjoyable and a great representation of the trending category. Leading the group is the Cucumber Lime Gin and Tonic that's followed by the Margarita. All four will be great for when you're on the go; such as trips to the beach, hiking or being served at sporting events and concerts.
Unfortunately for us here in the Pacific Northwest we may be waiting for a few months before this new lineup of Fling Craft Cocktails finds its way to the local shelves. Midwest regional distribution is currently underway for Fling Craft Cocktails, with national expansion occurring throughout 2019. The suggested retail per 4-pack is $12.99.
Here are the descriptions for each of the flavors provided by Boulevard…
BLOOD ORANGE VODKA SODA
Fling yourself to the Italian coast, where hats are big, swimsuits are small, oranges are crimson, and life is a celebration. The combination of 360 Vodka soda water and a hint of blood orange is beautifully guilt-free – just 100 calories and 2.4g of carbohydrates.
5% ABV | 100 CALORIES | 2.4G CARBS
CUCUMBER LIME GIN AND TONIC
Fling yourself to London Town, where royals reign and properly made cocktails are the rule. Bursting with floral aromas, Builders Botanical Gin pairs perfectly with tonic and a touch of lime and cucumber to create a modern, effervescent take on a timeless classic.
7% ABV | 170 CALORIES | 8.6G CARBS
MAI TAI
Fling yourself to an island paradise where rules are weak, drinks are strong and Hawaiian shirts are essential. Our Mai Tai is a fruity balance of lime, orange, almond and spice complemented by Virgin Islands rum.
8% ABV | 197 CALORIES | 9.8G CARBS
MARGARITA
Fling yourself south of the border, where shoes give way to sandals and mariachi mingles with the music of the waves. A mouthwatering blend of salty, sweet and sour, our Margarita is crafted with Mean Mule American Agave spirit, offering a lively, refreshing spin on a perennial favorite.
7.5% ABV | 198 CALORIES | 9.8G CARBS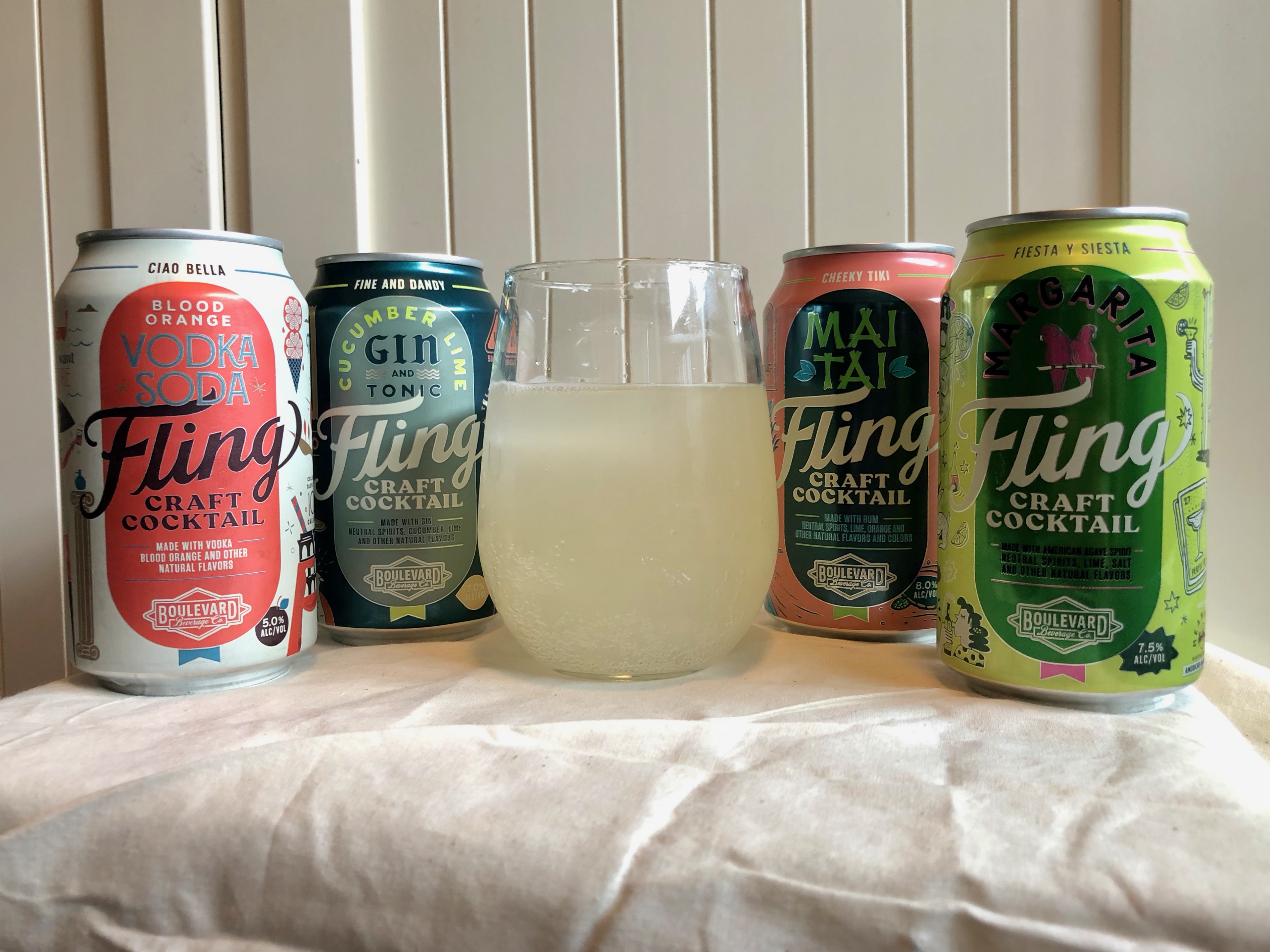 For more information visit Boulevard.com/Fling or follow them on Facebook, Twitter, and Instagram.