Celebrate St. Patrick's Day with Roe & Co Cocktail Recipes
|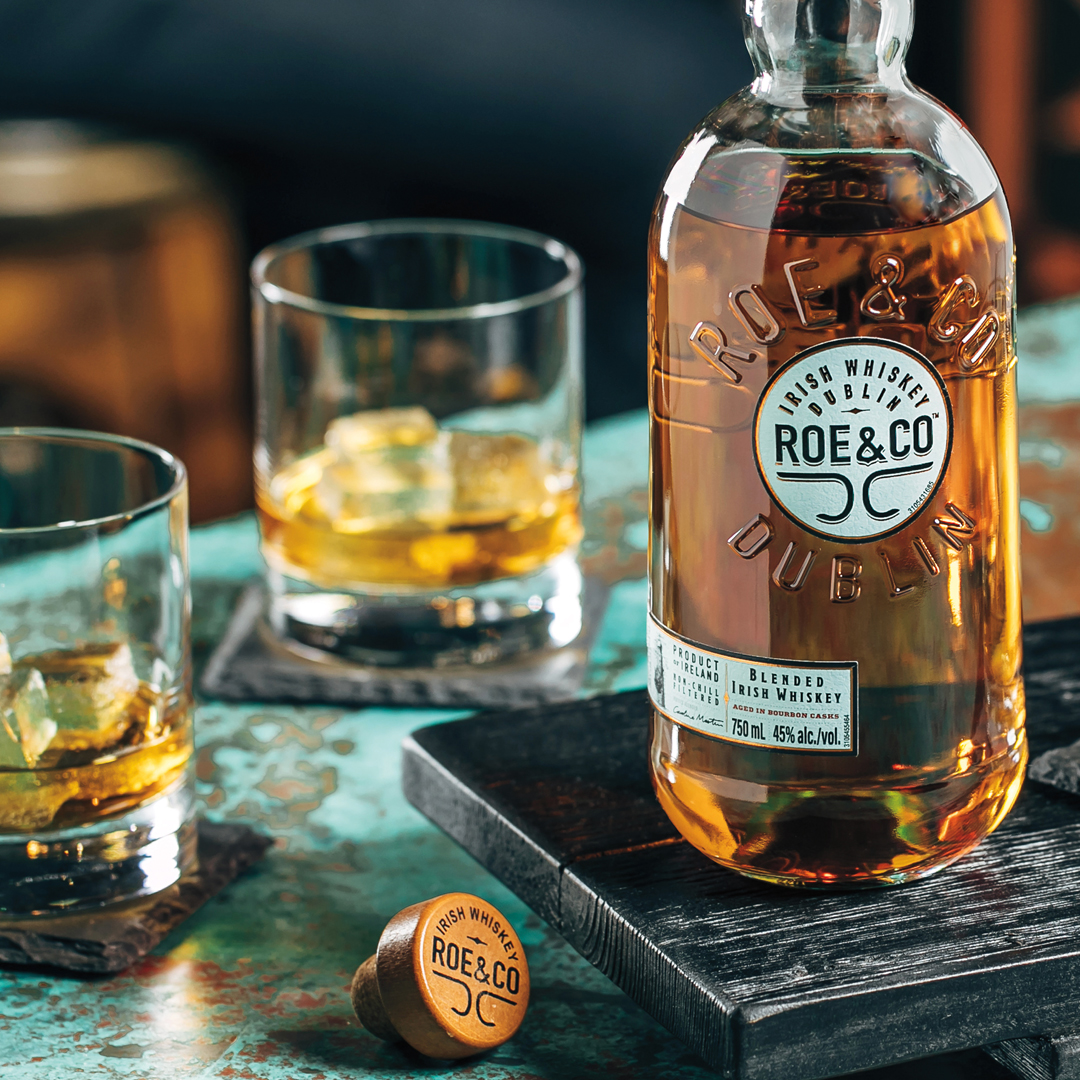 As we celebrate St. Patrick's Day, we take a look at an Irish Whiskey.  This exported whiskey is making a comeback here in America. According to research firm, Impact Databank, over 72 million bottles of Irish whiskey were shipped to the U.S. last year, representing a 28% growth rate from 2021.
The leading and most popular brand is of course is Jameson. However, other brands are also making inroads here in the U.S., including the Dublin based Roe & Co. Owned by Diageo, Roe & Co is distilled and bottled directly across the street from its sister company Guinness. Though this distillery is fairly young, it has brought a bit of Irish Whiskey heritage to the brand.
During the 19th century, one of Ireland's largest whiskey producers was the Thomas Street Distillery that was owned by George Roe in Dublin. Roe exported a lot of its whiskey and as with other producers, took a beating during the temperance movement of the early 20th century. He then shuttered its stills in 1923.
Now Roe & Co honors George's legacy in both the name and the spirit it produces. Roe & Co has built a new state of the art distillery in The Liberties area of Dublin. It converted the former Guinness Power House on Thomas Street to become this new distillery that incorporates the legacy of George Roe and adapting it to the contemporary whiskey era.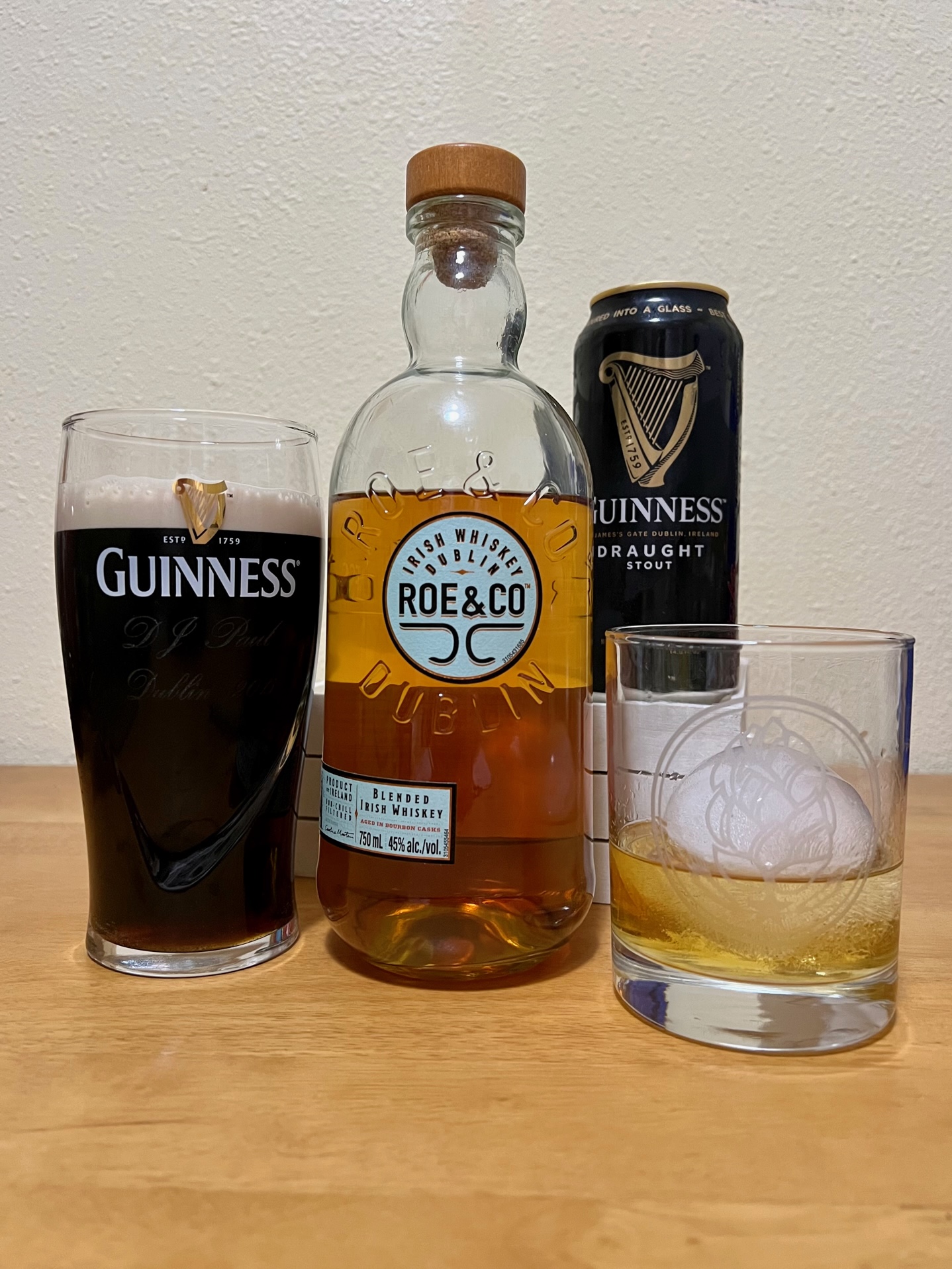 Roe & Co is a blended Irish Whiskey of both malt and corn whiskies aged in ex-bourbon casks, non-chill filtered and bottled at 90 proof. There's a lot more depth and complexity than other Irish Whiskies that we have tasted, especially at the $30 price point.
Plus the bottle that the whiskey arrives in is just beautifully done. It emulates the St. Patrick's Tower that once hovered over the Thomas Street Distillery. This windmill tower still stands today nearby as does the famous pear tree. Both icons are designed into the bottle of Roe & Co Irish Whiskey. To find the pear, one must turn the bottle upside down. Diageo created a great looking package for this invigorated brand!
The whiskey is also great for mixing cocktails. Josh Cameron, Roe & Co's North American Brand Ambassador, has created some fine Irish Whiskey cocktails. Of course these use Roe & Co Irish Whiskey, but if a bottle of Roe & Co is not handy, you can reach for another variety.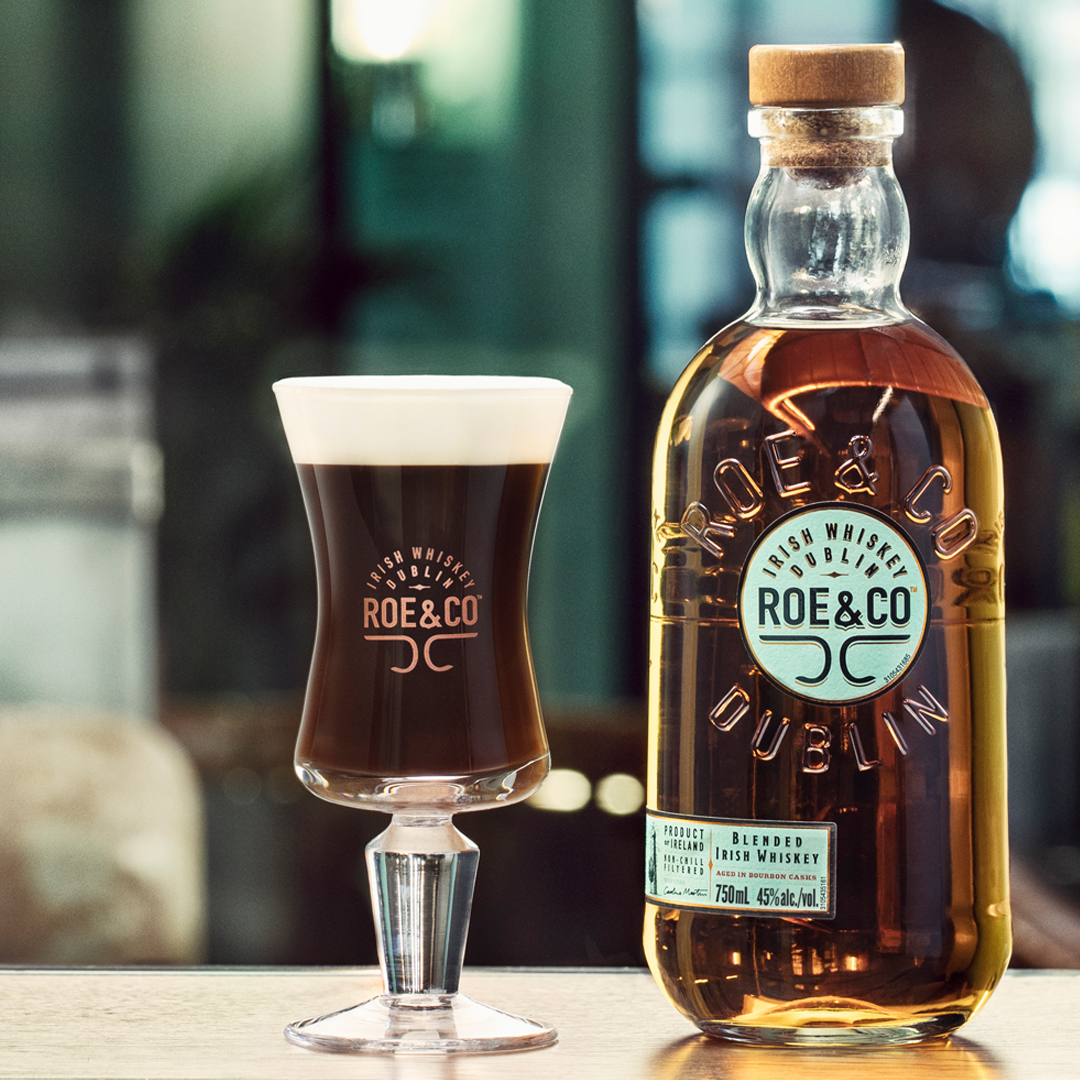 Roe & Co Irish Coffee
Ingredients:
5 oz Roe & Co
2 tsp light brown sugar
1 cup hot or cold brewed coffee
Whipped cream
Method:
Hot: Add Hot coffee and sugar, stir and mix well. Once combined, add the Roe & Co Irish Whiskey. Top with Whipped Cream.
Cold: Mix sugar and cold brew coffee well. Stir in Roe & Co. Irish Whiskey and pour over ice filled Irish coffee mug. Top with Whipped Cream.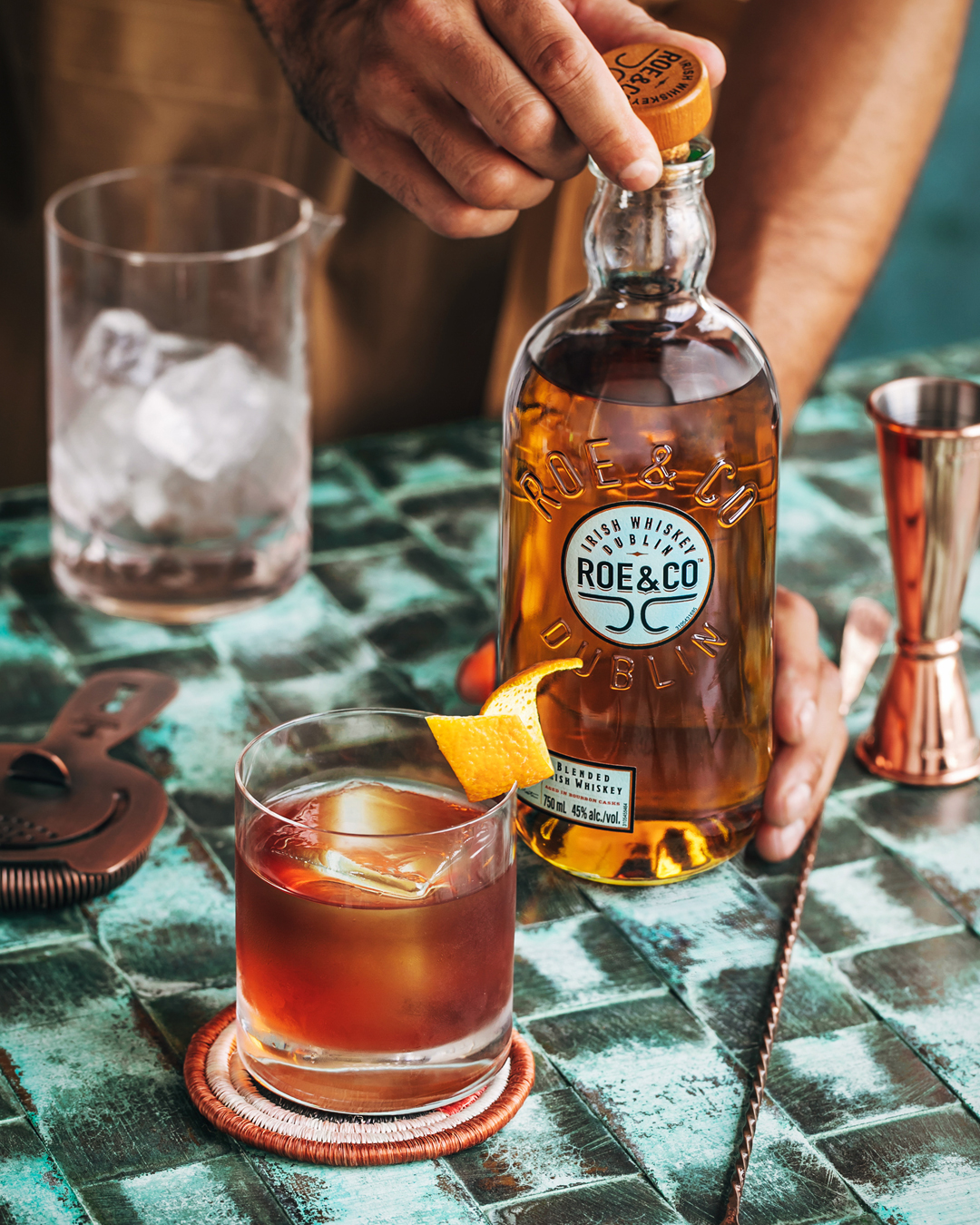 Roe Fashioned
Ingredients:
5 oz Roe & Co
5 oz Sugar Syrup
3 Dashes of Angostura Bitters
Garnish with the zest of an orange.
Equipment:
Rocks glass
Rock Ice
Bar Spoon
Mixing Glass
Strainer
Method:
Add all ingredients to a mixing glass and fill with ice. Stir for 20 seconds. Strain over fresh ice in a rocks glass. Garnish with an orange peel.
Feeling Fancy? Replace your sugar syrup with salted Agave Syrup (salt to taste), use your favorite aromatic bitters (we recommend Barrel Aged bitters) and serve with a slice of charred orange.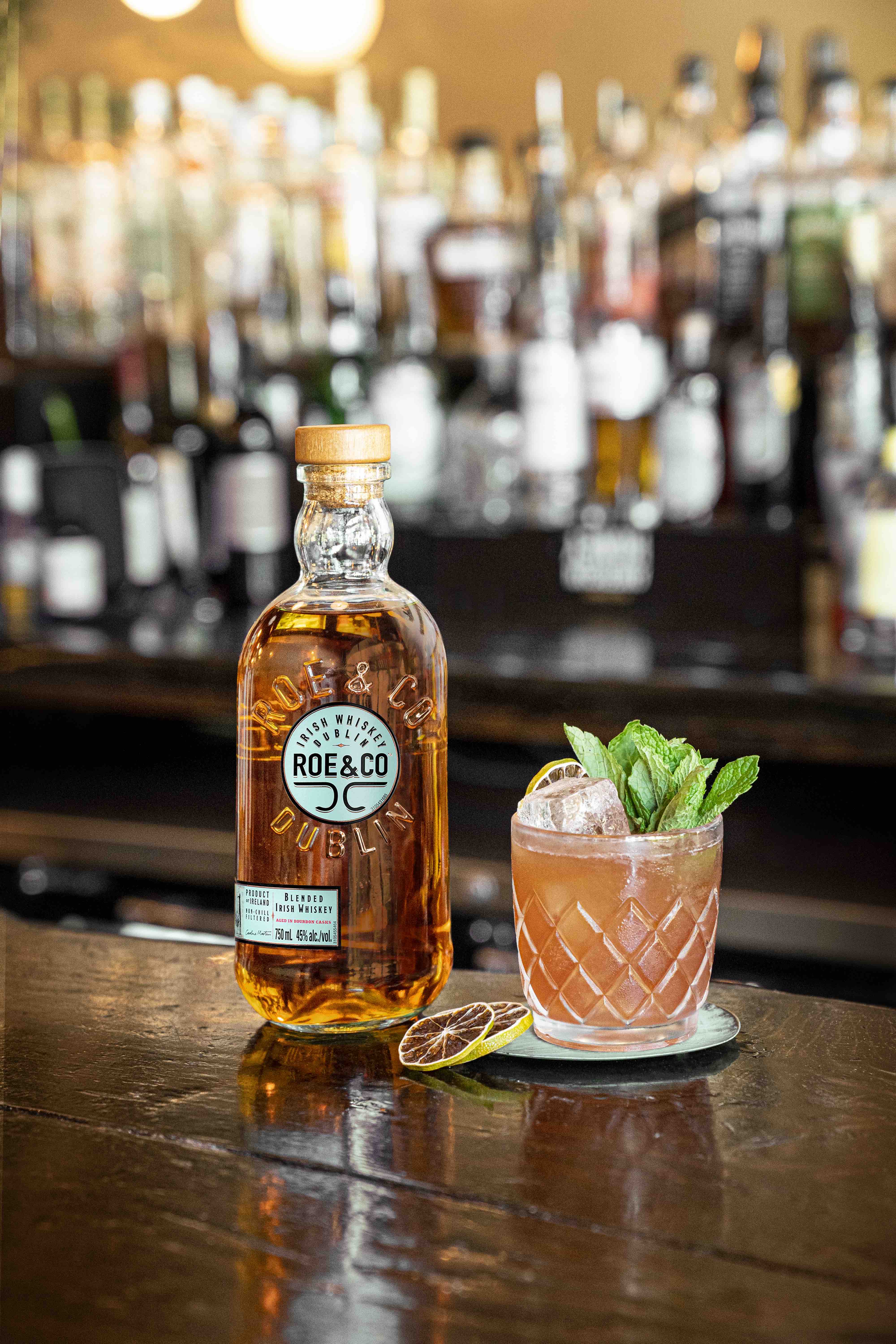 Roe & Co Sour
Ingredients:
5 oz Roe & Co
75 oz fresh lemon juice
5 oz sugar syrup
1 egg white
Method:
Add all ingredients to a cocktail shaker and fill with ice. Shake hard and double strain over ice in a rocks glass. Garnish with a lemon twist.
Feeling Fancy? Add one of the following to the above recipe to get creative with your whiskey sour.
1 heaped tsp of good Jam or Marmalade
The pulp of 1 Passionfruit
3 dashes of your favorite cocktail bitters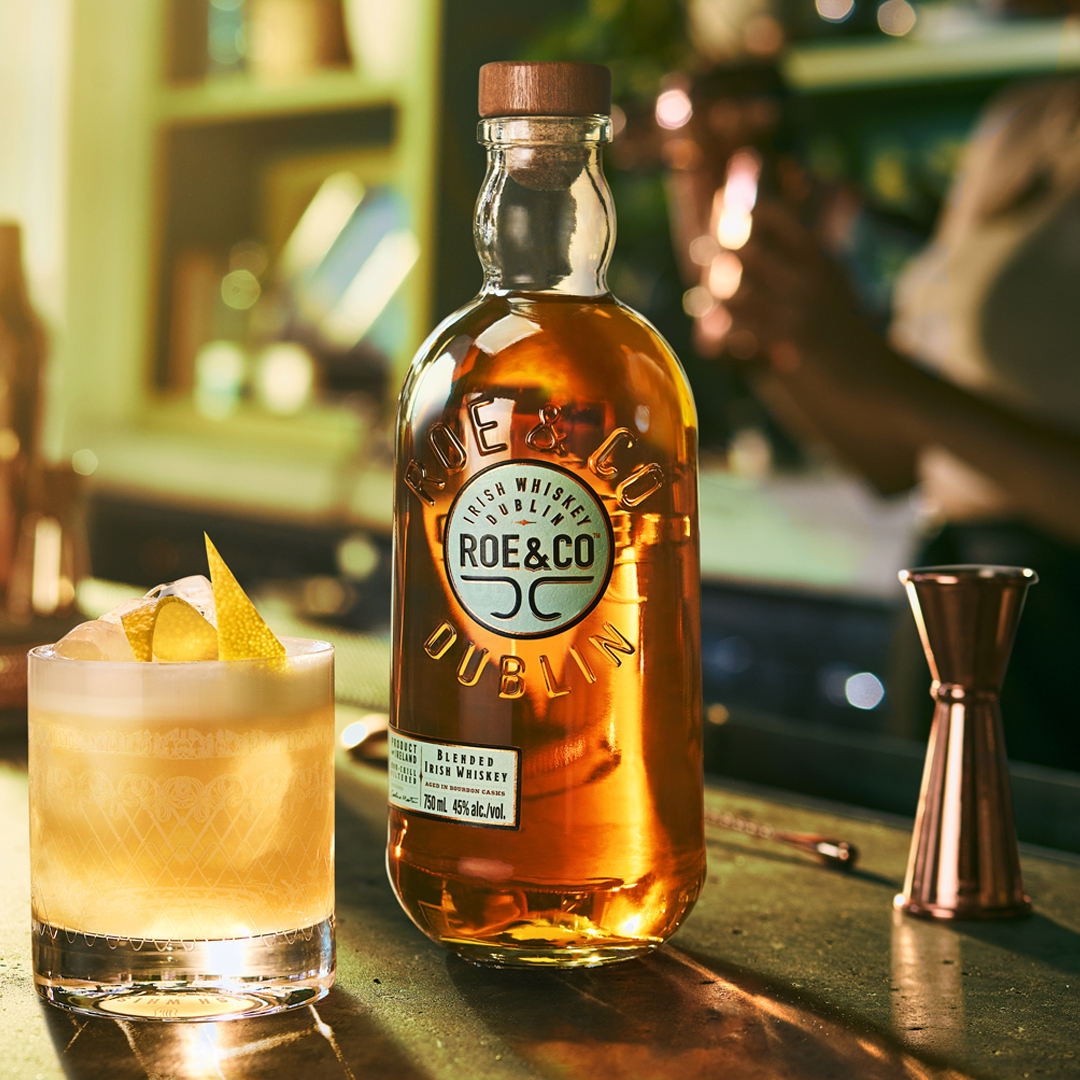 Roe & Co Smash
Ingredients:
5 oz Roe & Co
5 oz Sugar Syrup
5 oz Fresh Lime Juice
8 Mint Leaves
3 Dashes of Angostura Bitters
Top with Soda Water.
Garnish with the Sprig of Fresh Mint.
Equipment:
Method:
Add all ingredients (apart from Soda) to a highball glass and stir to combine all the ingredients. Add crushed ice to the top. Top with fresh soda water and stir once more. Garnish with a fresh mint sprig.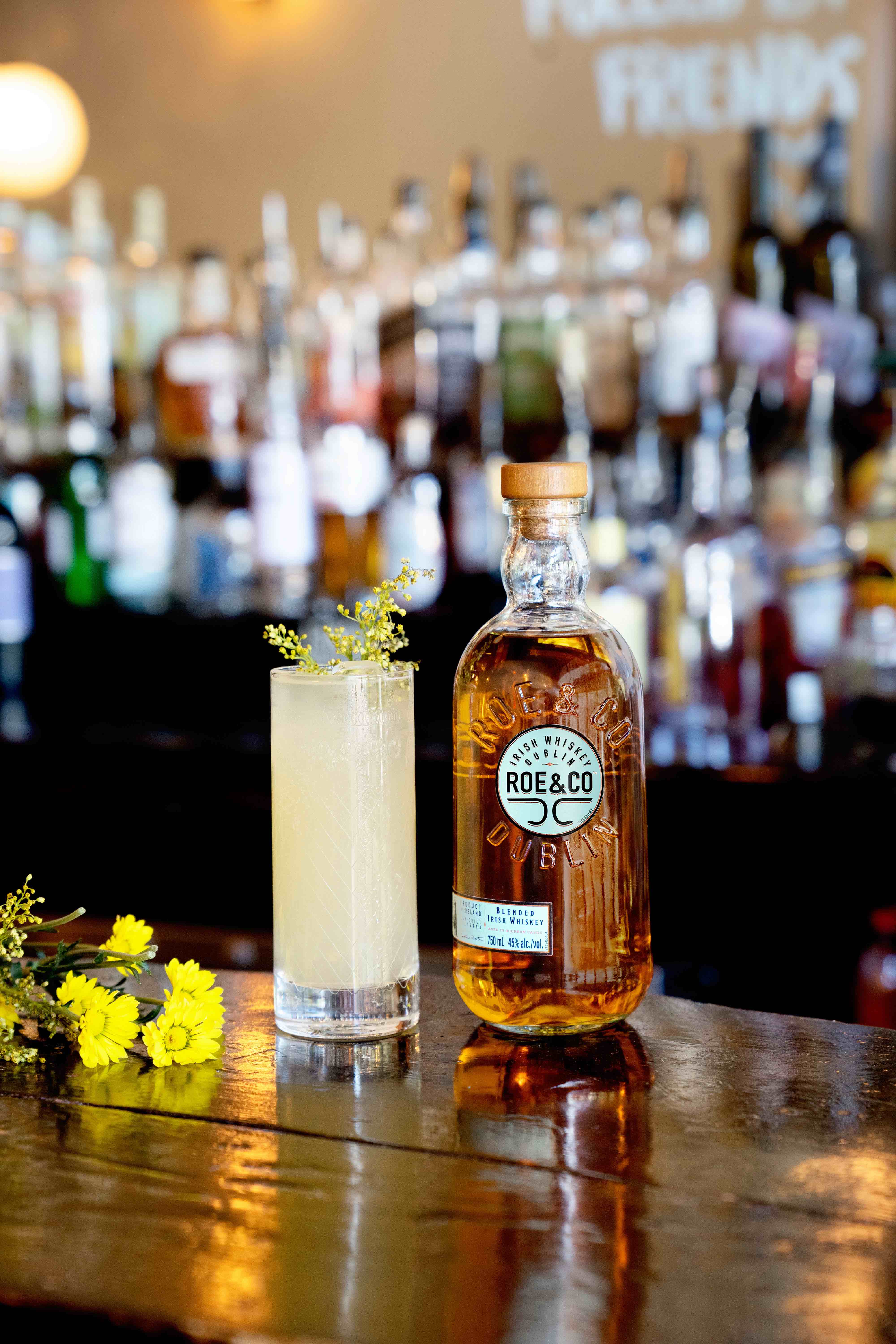 The Roe Life Hi-Ball
Ingredients:
25 oz Roe & Co
5 oz Milk Punch (Homemade or Purchased)
1 oz Lemon Soda (or Fever Tree Yuzu if you are feeling spunky)
Equipment:
Method:
Combine ingredients in glass and  garnish with edible seasonal flowers.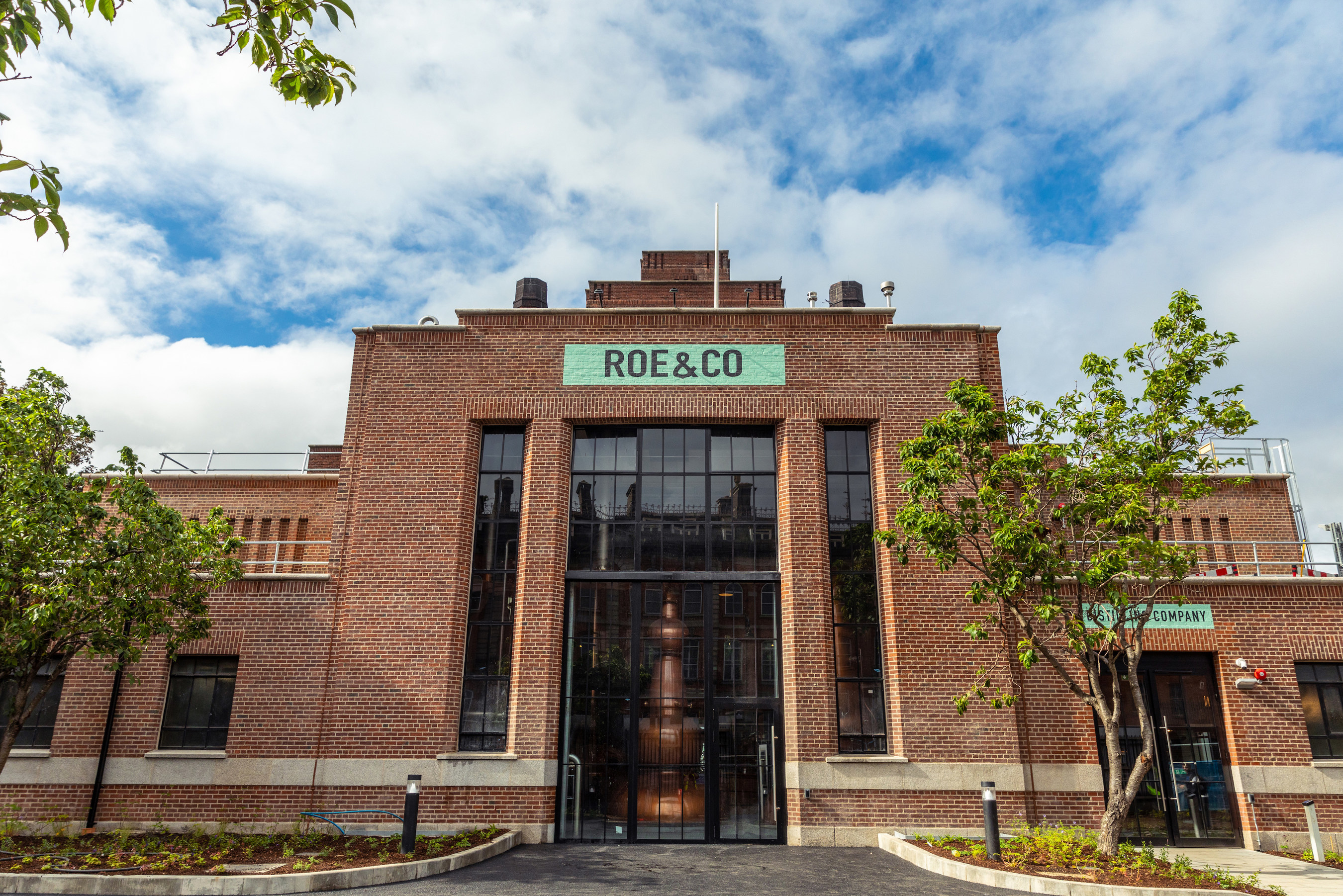 If these cocktails don't fit your tastebuds, Roe & Co is kicking off a new cocktail contest – Dublin' Up Cocktail Challenge. This contest is designed where innovative, at-home bartenders can partner to form a team of two that can display their inner creativity by putting their personal spin on a classic whiskey cocktail.
Best of all, the winning duo will win a $10,000 travel voucher to be put towards a trip to Dublin and an immersive cocktail session at the brand's Dublin-based distillery, where their recipe will be featured as Roe & Co's signature cocktail during St. Patrick's Day 2024!
Starting today, adults 25+ will have the opportunity to submit their cocktails by posting a photo or video on Instagram with #DublinUpCocktailContest and tagging @RoeAndCoWhiskey, ending at 11:59:59 pm ET on May 1, 2023. Fans will have the chance to vote for their favorite reimagined cocktail via the Roe & Co Instagram before the lucky winning duo is named after World Whisky Day (May 20, 2023).