Portland Homebrew Con 2018 Beer Event Guide
|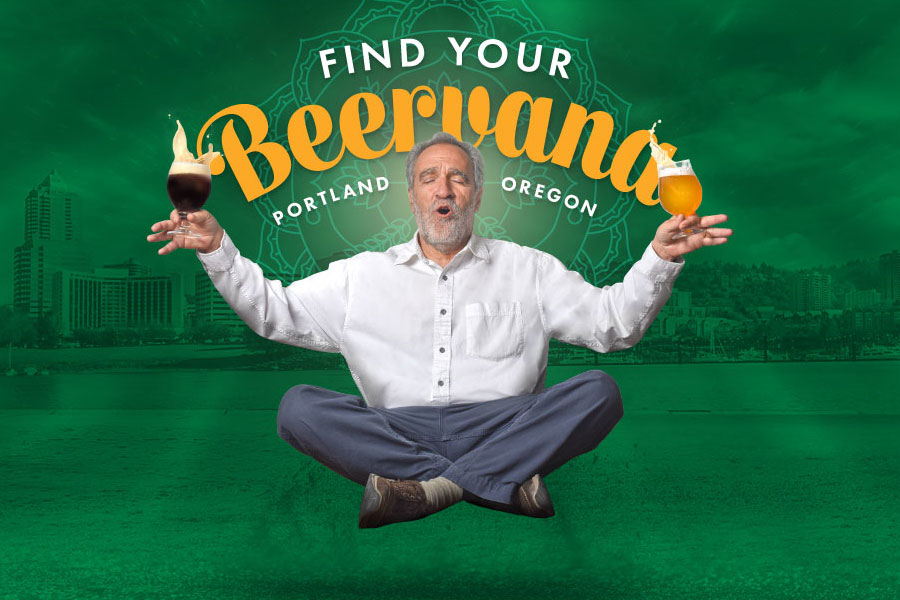 The national homebrewers conference, now known as Homebrew Con arrives in Portland for its 40th edition later this week. Along with it, 3,000 homebrewers will descend upon the Rose City for the better part of the week discussing their craft and visiting breweries and beer bars.
Homebrew Con 2018 takes place from June 28-30, 2018 at the Oregon Convention Center, but events associated with the annual conference will begin in earnest on Wednesday, June 27th.
Some of the highlights include a couple events with Ken Grossman, co-founder of Sierra Nevada Brewing, Charlie Papazian visits Rogue Eastside Pub & Pilot Brewery and the Brewing Network 13th Annual Street Festival. Best of all, many of these events are free to attend and you don't have to be a homebrewer to enjoy many of them, just have a strong fondness towards craft beer!
Here's a rundown on the peripheral events that will take place in Portland when Homebrew Con 2018 arrives this week.
Montavilla Brew Works Homebrew Con Welcome Party and Tour
Wednesday, June 27 – 3:00-9:00pm
Montavilla Brew Works – 7805 Stark Street – Portland, OR
The city of Portland will be brimming over with homebrewers as Homebrew Con 2018 kicks off, so Montavilla Brew Works will offer discounted pints, merchandise, giveaways, and tours for AHA members! Tours from 3pm-6pm. Please show AHA member card for discounts.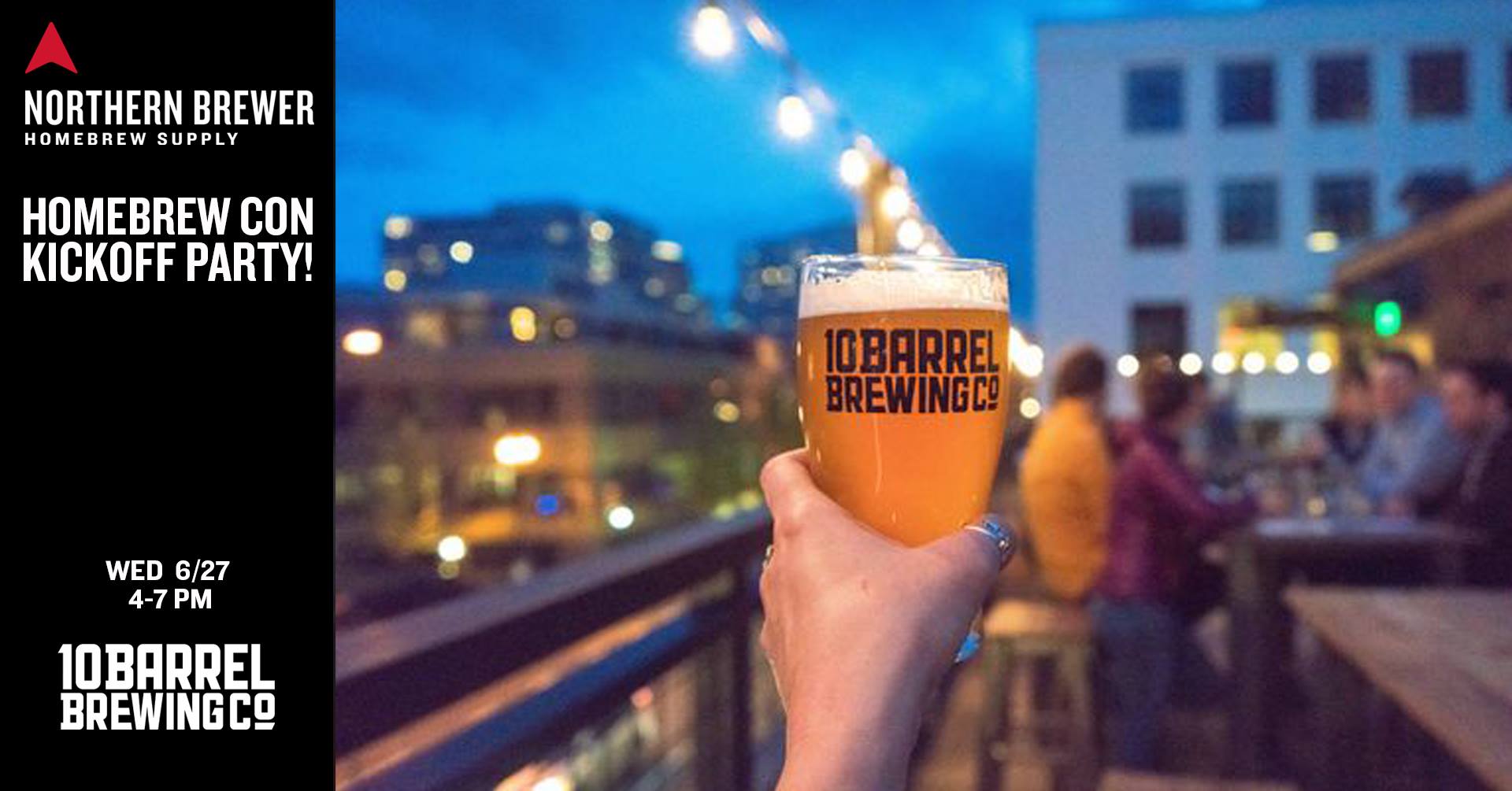 Northern Brewer Homebrew Con 2018 Kickoff Party
Wednesday, June 27 – 4:00-7:00pm
10 Barrel Brewing – 1411 NW Flanders Street – Portland, OR
Northern Brewer is teaming up with its sister company, Portland's 10 Barrel Brewing, to say welcome to Portland and here's to Homebrew Con 2018! Join Northern Brewer to sample the best 10 Barrel has to offer and swap stories with fellow homebrewers from across the country. Northern Brewer will be handing out $2 Pint vouchers good for the whole weekend. And they'll have a special prize in store for the first 100 brewers who deliver their secret password at the door. (Shhh. The password is…FRUIT BAZOOKA.)
Insane in the Yeast Strain
Wednesday, June 27 – 6:00-9:00pm
Imperial Bottle Shop & Taproom – 3090 SE Division St. – Portland, OR
To inspire homebrewers, Imperial Bottle Shop hosting an evening of Everybody's Brewing and Imperial Yeast for a sensory experience of 8 different yeast strains. Everybody's Brewing brewed up 2 different worts to ferment with these 8 various yeast strains. Best of all entry is free!
Chuckanut Brewing Night
Wednesday, June 27 – 6:00-9:00pm
Roscoe's – 8105 SE Stark St. – Portland, OR
Mari and Will Kemper from Chuckanut Brewing will be hanging out at Roscoe's and sharing their award winning beers! Their Pilsner, Marzen Lager, Maibock, and Smoke Porter will be on draft. Come meet some these wonderful people who are true craft beer pioneers in the Pacific Northwest.
If you miss this on Wednesday, The BeerMongers will be hosting the Kemper's on Thursday, June 28th at 6:00pm with three beers of Chuckanut's beers on tap.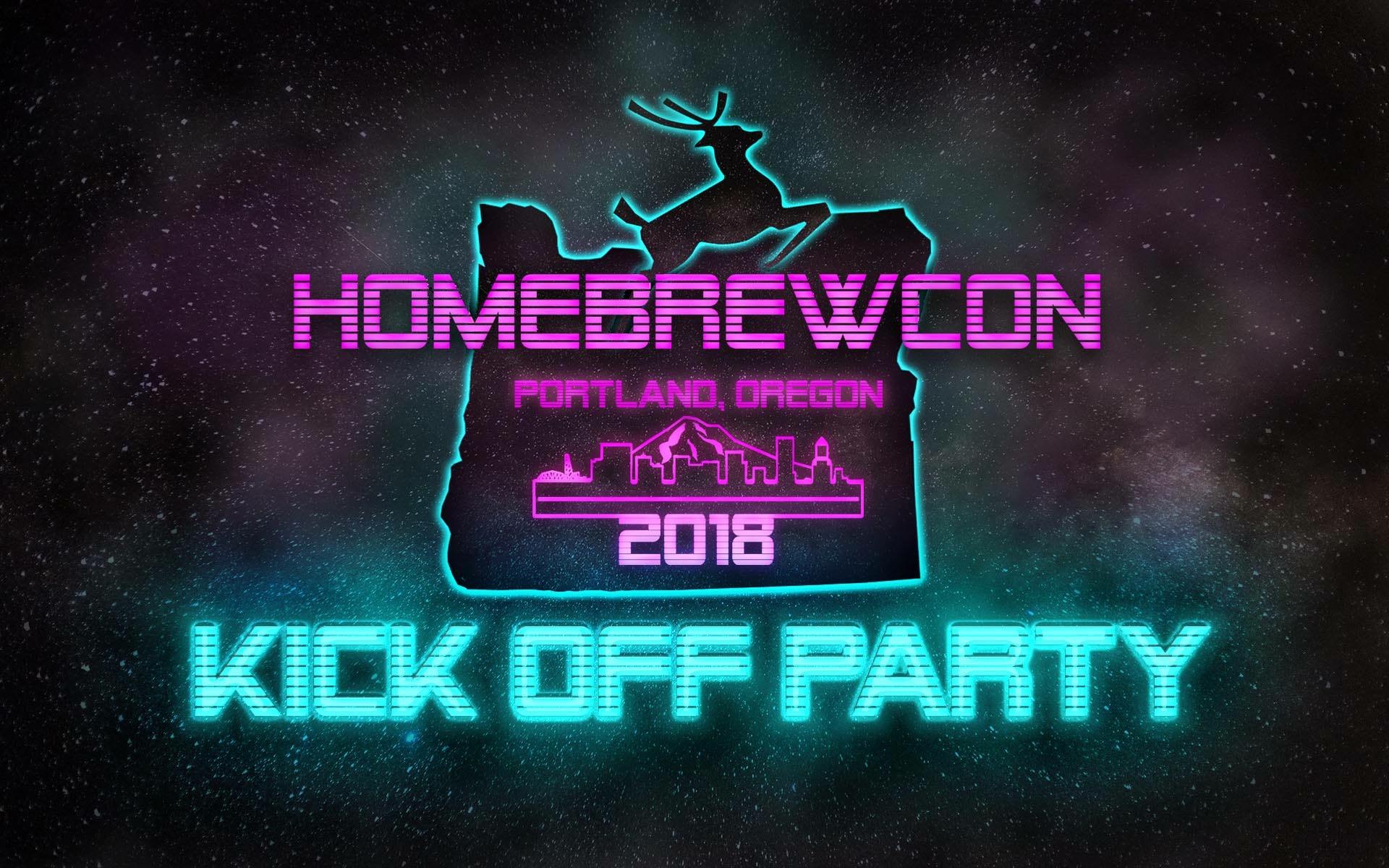 Brewcraft USA Homebrew Con Kick Off Party
Wednesday, June 27 – 6:30-9:30pm
Culmination Brewing – 2117 NE Oregon St. – Portland, OR
One of the larger Homebrew Con events, Brewcraft USA will host a Homebrew Con Kick Off Party at Culmination Brewing. Entry is free for this outdoor block party.
Pouring during the Brewcraft USA Homebrew Con Kick Off Party will be Breakside Brewery, Culmination Brewing, Migration Brewing, Level Beer, Zoiglhaus Brewing, Grains of Wrath, and Oregon Mead & Cider.
There will also be plenty of giveaways and charity raffles, along with special Food Truck appearances!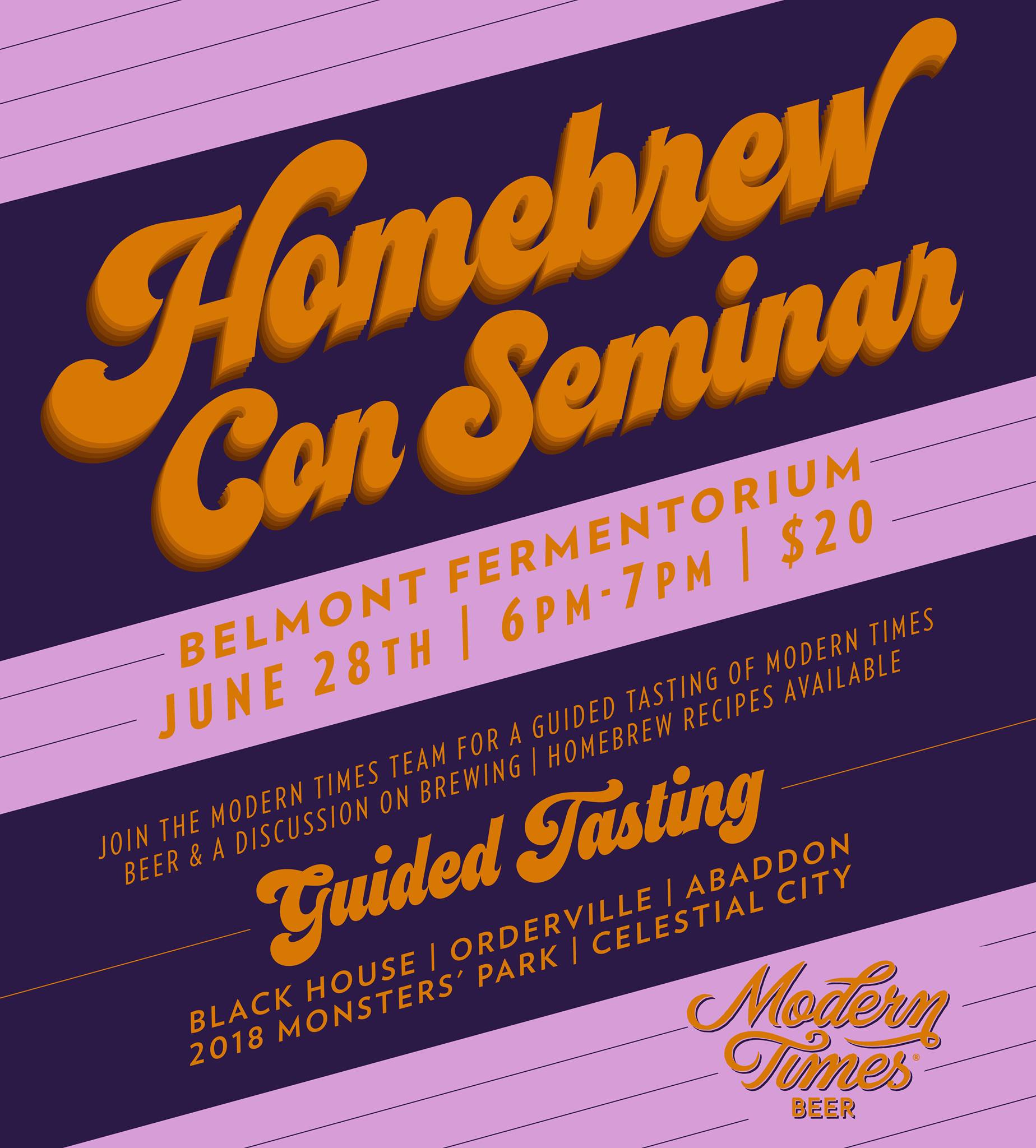 Homebrew Con Seminar
Thursday, June 28 – 6:00-9:00pm
Modern Times PDX – 630 SE Belmont St. – Portland, OR
The Belmont Fermentorium will be hosting a homebrewing seminar from 6:00-7:00pm. In honor of Homebrew Con, Modern Times will be offering a guided tasting, opening the floor for discussion, and divulging the recipes for the featured beers.
Tickets are $20 and are limited, and come prepared with your most burning brewing questions. You'll also receive five 4 oz tasters! Purchase advance tickets by clicking HERE.
Beyond the Pale: An Evening with Ken Grossman
Friday, June 29 – 5:00-8:00pm
Belmont Station – 4500 SE Stark Street – Portland, OR
Meet Ken Grossman, the founder of Sierra Nevada Brewing, as he joins Belmont Station for a Q & A, book sales and signing and more. Wear your most classic Sierra Nevada t-shirt for a Sierra giveaway! Very special Sierra Nevada beers on tap!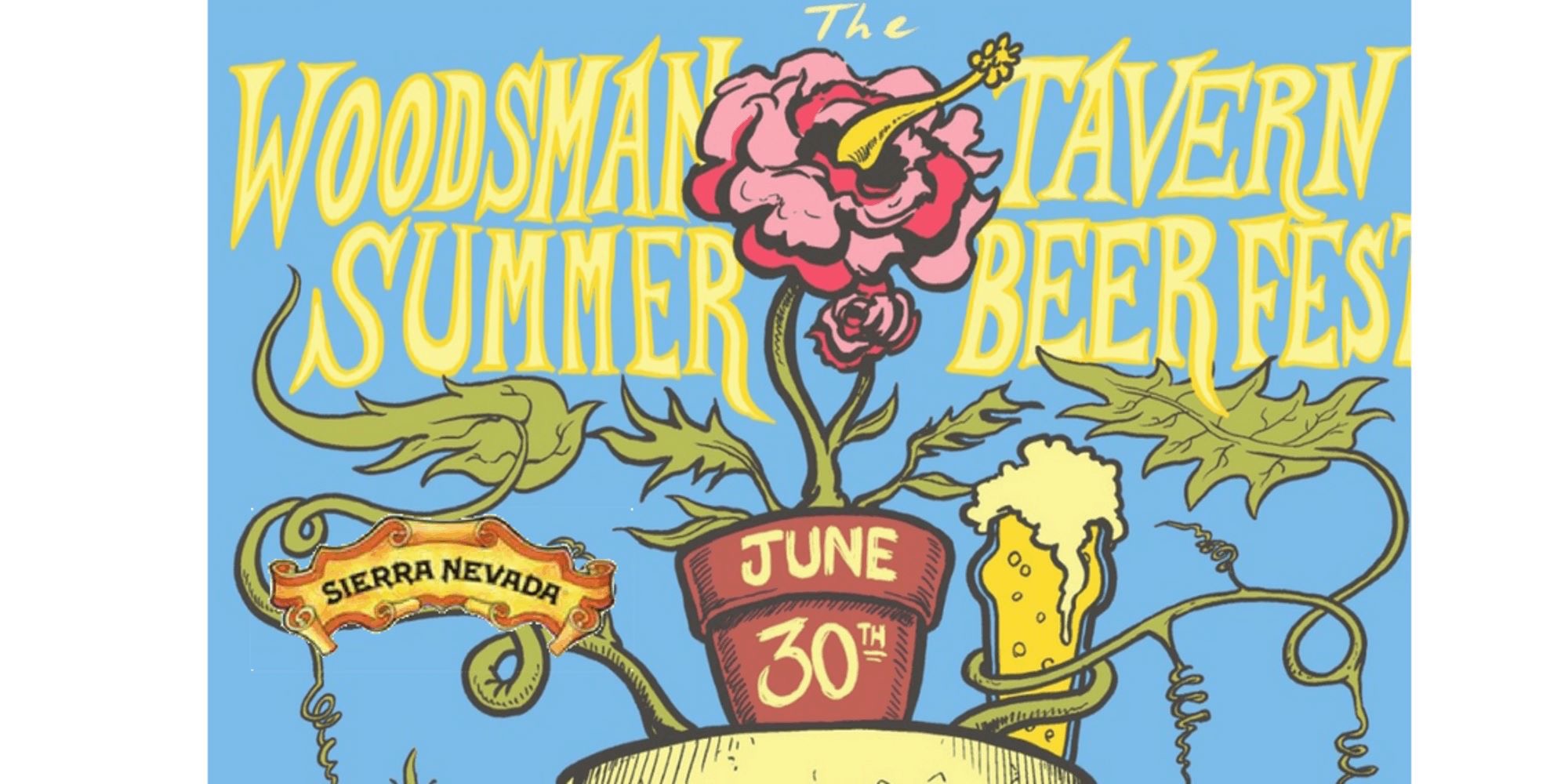 Sierra Nevada Brewing & Woodsman Tavern Beer Brunch
Saturday, June 30 – 9:00-11:00am
The Woodsman Tavern – 4537 SE Division Street – Portland, OR
Sierra Nevada Brewing and The Woodsman Tavern are teaming up during the Home Brewers Conference in Portland, Oregon. This special Beer Brunch will feature Ken Grossman in attendance while drinking some morning beers and eating smoked meats and shucking oysters in its outdoor garden space
Featured beers include Otra Ves Gose, Pale Ale, Torpedo IPA, and a Brewery Released Seasonal Specialty. Each beer will be paired with a Woodsman Tavern bite.
Tickets are $35 and include 4 beers and 4 bites. Tickets must be purchased in advance by clicking HERE.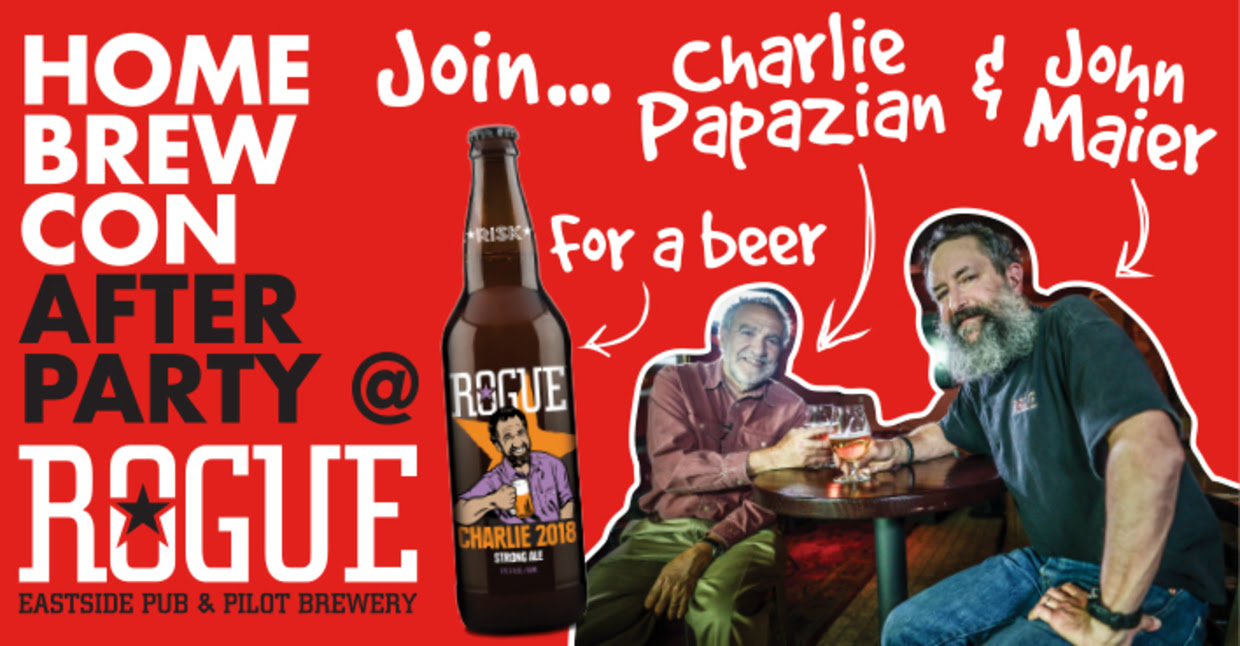 Homebrew Con After Party: Charlie 2018 Beer Release
Saturday, June 30 – 5:00-8:00pm
Rogue Eastside Pub – 928 SE 9th Avenue – Portland, OR
Join the Rogue Eastside Pub & Pilot Brewery on Saturday as they raise a pint to the father of modern homebrewing Charlie Papazian, with a limited release beer in his honor. Dubbed Charlie 2018, this commemorative beer was brewed by John Maier in celebration of Charlie's final HomeBrew Con and his many contributions to professionals and homebrewers alike.
Entry is free and Charlie 2018 will be released in limited edition 22oz bottles and on draft at select Rogue Pubs.
BNA13 – Brewing Network 13th Anniversary Street Festival
Saturday, June 30 – 7:00-11:00pm
Base Camp Brewing – 930 SE Oak Street – Portland, OR
The Brewing Network is back at Homebrew Con to celebrate 13 years in Brewcasting and Beer Radio! For its Portland visit, BN will team up with Base Camp Brewing for a street party with beer, music and some crazy BN antics. There are two different entry fees for the evening's event and both come with a fair amount of beer tickets! Click HERE to purchase advance tickets.
Participating breweries include Base Camp Brewing, Laurelwood Brewing, Binary Brewing, Ex Novo Brewing, Migration Brewing, Widmer Brothers Brewing, Culmination Brewing, Golden Vally Brewing, StormBreaker Brewing, Occidental Brewing, and Zoiglhaus Brewing.
$35 General Admission Ticket Includes:
Entry to event at 7pm
Admission and commemorative BNA13 glass
16 x four oz. pours
10 raffle tickets for homebrew and beer related prizes and equipment
*Food will be available for additional purchase, or is included in VIP ticket package
$55 VIP ticket includes:
1 Hour Early Admission at 6pm
Private Meet and Greet tasting with The Brewing Network
Commemorative BNA13 glass
16 x four oz. pours
20 raffle tickets for homebrew and beer related prizes and equipment
1 full meal included