31st Annual Oregon Brewers Festival Preview – July 26-29, 2018
|
Oregon's most well-known beer festival is only a little over two weeks away, so its time to be preparing for this annual ritual. The 31st annual Oregon Brewers Festival will once again return to Tom McCall Waterfront Park in Portland from July 26 through July 29, 2018.
As we enter the festival's 31st year, there will be a few changes to the long-standing beer festival. After five years of the festival taking place during a five day period, organizers are reeling back the event to a four day festival. Attendance peaked at around 70,000 a few years back and has taken a slight hit during the past few years.
Therefore the 2018 OBF will begin on Thursday, July 26 and wrap up on Sunday, July 29. Hours remain the same: Thursday through Saturday from Noon to 9:00pm, and Sunday from Noon to 7:00pm.
Also with the 31st edition of OBF there is a new theme of With Beer Brings Friendship! It's a bit of a nod to the foreign breweries that have become part of many of the recent OBFs. For 2018 there will be five breweries from Baja California, Mexico. Look for beers by Agua Mala, Border Psycho, Insurgente, Transpeninsular, and Wendlandt as these Mexican beers will be pouring alongside the regular festival beers in the eight main trailers as opposed to a specialty tent that has been utilized in years past.
When it comes the charitable side of OBF this year the festival has pledged $20,000 to two local beneficiaries, each receiving $10,000. The first is Habitat for Humanity Portland/Metro East and its program, The House That Beer Built, a partnership between Habitat for Humanity Portland/Metro East and local craft breweries and beer-related businesses. The second beneficiary is New Avenues for Youth, an organization dedicated to the prevention & intervention of youth homelessness.
But prior to the taps pouring its first beers of the festival at Noon on July 26th, OBF will host its annual Oregon Brewers Brunch followed by the Oregon Brewers Parade. The brunch is sold out but the parade is free to attend and will begin at 11:30am leaving from the Kimpton RiverPlace Hotel at 1510 SW Harbor Way. From there it will travel north to the OBF Opening Ceremonies at Tom McCall Waterfront Park. Brian and Mike McMenamin will be the 2018 Grand Marshals and will be accompanied by a police motorcade escort, tunes from the BrassRoots Movement Marching Band, and lots of brewers and OBF fans. The parade is free and open to all ages, just make sure to get your wristband if you're of drinking age for quicker entry into the festival grounds. Then at Noon the opening ceremonies will begin and the first official keg will be tapped around 12:15pm.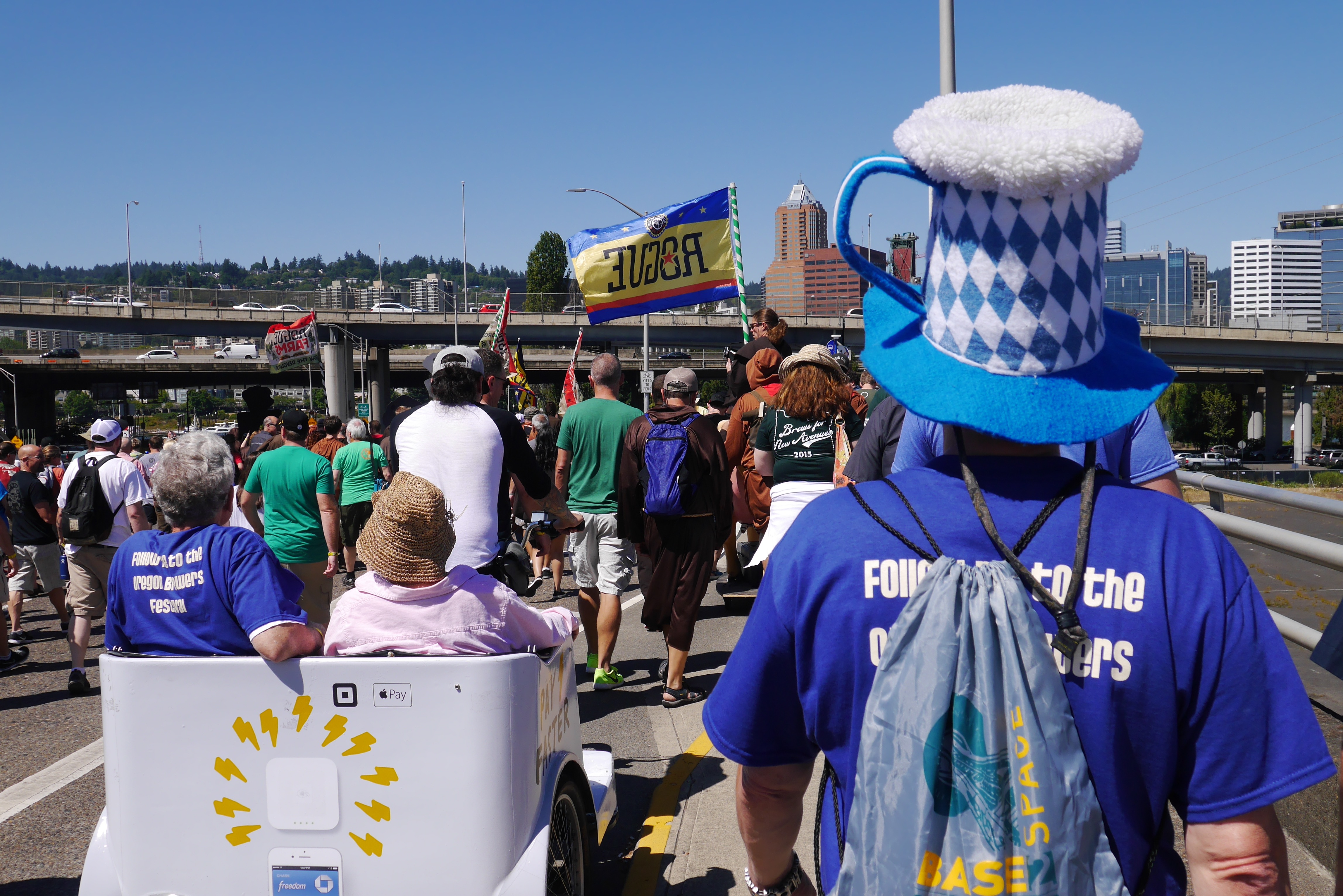 For its 31st year OBF will be pouring 80 beers from 80 breweries. These breweries hail from the United States (74), Mexico (5), and The Netherlands (1). Of these 80 breweries, 20 breweries will be pouring at OBF for the very first time and 56 beers will be debuting or have been brewed exclusively for the 2018 OBF.
From within the US, there are ten states that are represented. Oregon makes up the largest with 53 breweries followed by Washington with 8, Colorado and California with 3, Montana with 2 and Hawaii, Michigan, Missouri, Ohio, and Wyoming with 1 brewery each.
When it comes to the beers pouring the average ABV is 6.1%. There will be 23 beer styles pouring at the fest. IPAs reign over with 23 choices. The lowest ABV is 2.8% from Zoiglhaus with its Elderberry Berliner Weisse while the highest ABV is 12% from Heretic with its Goo Imperial Milk Stout.
Read More: 2018 Oregon Brewers Festival Economic Study
To prepare for this year's OBF, we have compiled a list of all 80 breweries and beers. When it comes to the OBF Program, this year there will not be a printed one. Organizers decided to reduce expenditures while going green. In doing so there is a new OBF App that offers full beer descriptions (search by style, take notes, find on the map). You can also chat with friends, post to the wall; check out the music lineup, and more. The OBF App can be downloaded at https://download.socio.events/event/MjAwMQ.
If you are not a fan of using Apps, the festival is also providing a Google Doc with all the beer descriptions and stats, which can be downloaded for sorting and printing here: https://tinyurl.com/y7obn53a.
Another option is the OBF will be handing out a one-page printed list of beers by trailer and by brewery, with a map of the venue, free for everyone at the event.
Here's a complete list of all 80 breweries and the beer each will be pouring.
2018 Oregon Brewers Festival Brewery & Beer List:
54° 40′: Rick & Mortmunder (Dortmunder Lager)
Agua Mala: Sirena (Pilsner)
Anderson Valley: Framboise Rose Gose
Backwoods: Dreamsicle Kölsch
Bayern: Citra DumpTruck Summer Bock
Belching Beaver: Orange Vanilla Milkshake IPA
Binary: All Fugged Up (ESB)
Boneyard: Pinot Pulp (Blood Orange Extra Pale Ale w/Brett)
Border Psycho: Perversa (Imperial IPA)
Boulder: Bump 'n' Rind Watermelon Kölsch
Boundary Bay: Currantly Hip Sour (Black Currant Sour)
Breakside: Limon Pepino (Lime & Cucumber Lager)
Buoy: Beaver State Pilsner
Caldera: Caldera Coco-Nutty Blonde Ale (w/Coconut)
Cascade: Belmont Street Bramble (Rasp/Tangerine Sour)
Coin Toss: Caught in a Pickle Lager
Crooked Stave: Do You Even Zest?! (Imperial IPA)
Deschutes: Fruit Fight NE IPA
Double Mountain: Saison Ventoux (Saison with Fruit)
Ecliptic: Flamingo Planet Guava Blonde Ale
Everybody's: Guango Deep (Guava/Mango Hazy Imperial IPA)
Fort George: It Takes Two to Mango (Mango Hazy IPA)
Fortside: The Real Slim Hazy (Hazy IPA)
Freebridge: Summertime Radness (Rose Berliner Weisse)
Fremont: Limeshine (Pilsner)
Gigantic: Magnificent 527 (IPA)
Gilgamesh: CBD Pale Ale
Golden Valley: This Train is Bound for Hell (Smoked Helles)
GoodLife: Long Acronym (Brett India Pale Lager)
Great Divide: Heyday Modern (Hazy IPA)
Great Northern: Big Mountain Tea Pale Ale
Great Notion: Juice Jr. (Hazy IPA)
Heathen: Raspberry Rhubarb Sour Ale
Heretic: Goo (Imperial Milk Stout)
Hopworks: Completely Excellent (Hazy IPA)
Insurgente: Juan Cordero (Tijuana Pale Ale)
Iron Horse: Crazy Aunt IPA
Kells: Mezcal-a-Gose
Laurelwood: Waylay Sprite Pale Ale
Lompoc: It's Full of Stars (Pale Ale)
MadTree: Entropic Theory (IPA)
Maui: Belgian Table Beer
McMenamins: The Jester's Nightcap (Imperial Stout)
Melvin: Killer Bees (Blonde Ale)
Migration: Summertime in the 503 (Pale Ale)
Monkless: Peppercorn Imperial Wit
Natian: 1306 (Milkshake IPA)
New Holland: I Like Pretzel Day (BBA Pretzel Caramel Stout)
Ninkasi: Fruited Gose
Old Market Pub: Punchy Peach (Barrel Aged Wheat Ale)
Old Town: Green Tea Lemonade
Oproer: Refuse // Resist (Imperial IPA)
Oregon City: Guavador Dali (Pink Guava NE IPA)
Pelican: To Peach Their Own! (Lager)
Perennial: Bridge of the Gods (Grisette)
pFriem: Mango Milkshake IPA
Portland: Tart Me Up! (Berliner Weisse)
RiverBend: We Found Barb In The Strawberry Field (NE IPA)
Rogue: Pinch (Imperial Gose)
Royale: Zonkey (PNW Mexican Lager)
Rusty Truck: Sugar Shack Brown Ale
Sasquatch: American Aquarium Drinker (Gose)
Scout: Psycho Killer Qu'est-ce Que Saison (Black Saison)
Silver Falls: Wisp Raspberry Wheat
Silver Moon: Water on the Moon (Coffee IPA)
StormBreaker: Guava Man IPA (West Coast Hazy IPA)
Sunriver: Hugs and Flip Flops (Wheat Beer)
Terminal Gravity: Summer Honey (Strong Ale)
Three Creeks: Skol – Juniper Infused Norwegian Ale
Three Mugs: Passion Of The Honey (Honey Ale)
Thunder Island: Fuzzy Wit
Transpeninsular: Playitas Cali Pale Ale (IPA)
Upright: Berliner Weisse
Vertigo: South of the Border Blonde Ale
Von Ebert: Hibiscus Wit
Wendlandt: Perro del Mar (West Coast IPA)
Widmer: Lemonic Possession (Imperial IPA)
Wild Ride: Cold Chillin' Vanilla Cream Ale
Wolf Tree: Spruce Tip Gruit
Zoiglhaus: Elderberry Berliner Weisse
In addition to the amazing beers pouring, the 2018 OBF will also feature craft cider and wine for the first time. Cider Riot! will pour its Everyday Passionfruit Cider and Reverend Nat's Hard Cider will pour its Viva La Pineapple Cider. When it comes to the wine offerings Eola Hills will pour 2016 Classic Pinot Gris and 2015 Classic Pinot Noir white wine and Serra Vineyard will pour a 2016 Rosa Maria Rosé and 2014 Cabernet Sauvignon Reserve. Both craft cider and wine will be filled in the OBF mug.
Entry into the Oregon Brewers Festival is free. However to consume beer one must purchase a 2018 souvenir plastic mug that costs $7.00. Beer, cider and wine are purchased with wooden tokens that cost $1.00 each. It costs four tokens for a full mug of beer or cider or one token for a taste; it costs five tokens for a five-ounce pour of wine; no tasters available for wine. The purchase of mugs and tokens is made on-site at the Mug/Tokens tent just inside the Oak Street entrance. Mugs or glasses from past festivals will not be filled; however, tokens from past festivals may be reused. The mug/token sales booth is CASH ONLY and does not accept credit cards or checks. The festival does provide eight ATM machines on premise.
The Crater Lake Soda Garden presents complimentary handcrafted soda for minors and designated drivers. Minors are welcome all hours when accompanied by a parent. Animals are not allowed.
In addition to all of this fun there is also live music during the festival's four-day run. Here's the music schedule.
2018 Oregon Brewers Festival Music Lineup:
Thursday July 26
12:30-1:45: Stolen Rose
2:30-4:00: Soul Progression
4:45-6:15: Yur Daddy
7:00-8:45: Clinton Fearon and The Boogie Brown Band
Friday July 27
12:30-1:45: Josh Cole Bluegrass Trio
2:30-4:00: Augustus
4:45-6:15: Sol Seed
7:00-8:45: Grand Royale (Beastie Boys Tribute)
Saturday July 28
12:30-1:45: McCarthy Creek
2:30-4:00: Spyn Reset
4:45-6:15: Popgoji
7:00-8:45: World's Finest
Sunday July 29
12:30-1:45: Resinators
2:30-4:15: Mars Retrieval Unit
5:00-7:00: Jon Stickley Trio
Arriving to and departing from the Oregon Brewers Festival is easy with nearby access to TriMet MAX and buses. Plus the Portland Bureau of Transportation will offer its Safe Ride Home program that will be providing discounted vouchers for $20 toward taxi rides; and $5 for Lyft and Uber rides throughout the festival weekend. Vouchers will be available on-site to everyone. Bicyclists can take advantage of the onsite Hopworks Bike Corral, where volunteers will watch over bikes for free.
When entering the 2018 OBF there are four entrances into Tom McCall Waterfront Park. The four entrances are located at SW Oak Street, SW Pine St, under the Morrison St Bridge and along the sea wall at Pine.
Make sure to follow the Oregon Brewers Festival online at www.OregonBrewFest.com or follow on Social Media (Facebook, Twitter, Instagram, Snapchat) at @OregonBrewFest while using the two hashtags #OBF2018 and #OBF18.
Tom McCall Waterfront Park
300 SW Naito Parkway
Portland, OR 97204