Beer Review – Melvin Brewing 2019 Boil Rumble New England Breakfast Ale
|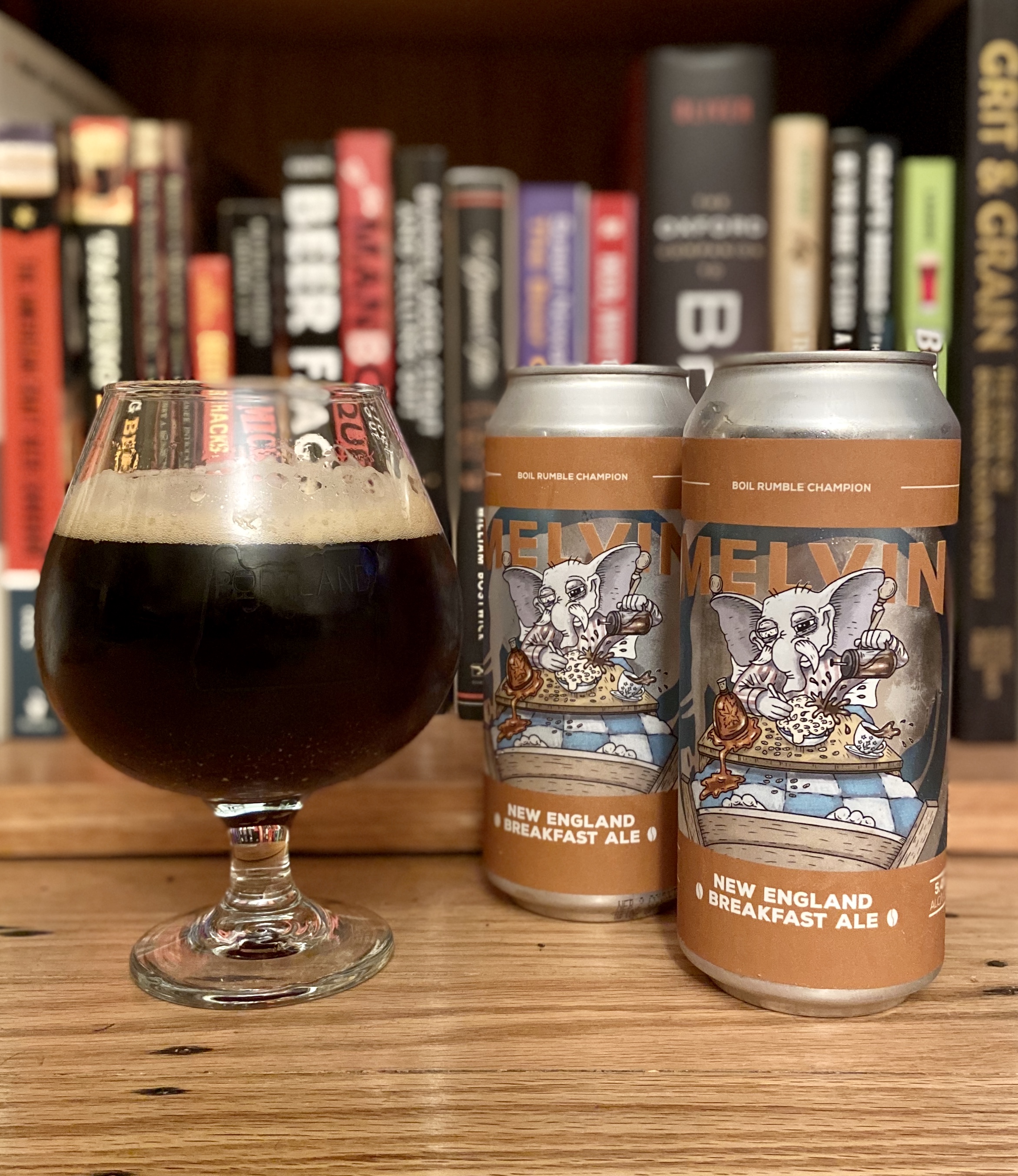 Last year, Melvin Brewing along with The Brewing Network and MoreBeer!.com Homebrewing Supplies hosted The Boil Rumble, its 2019 National Homebrew Contest. The winning beer was New England Breakfast Ale, the grand prize winner from the East Bay Homebrew Club of Barrington, Rhode Island.
To brew and then can New England Breakfast Ale, Melvin Brewing scaled up the homebrew recipe that was originally created by the East Bay Homebrew Club to brew at Melvin's production facility in Alpine, Wyoming. The beer has now been canned in 16oz Tall Boys and has been distributed nationally in all of Melvin's markets covering 14 states. The East Bay Homebrew Club also wins a Low Rider Digital Electric Brew Scultpure system valued at $6,000, a live interview on The Brewing Network's "Session" podcast and an entry in the Pro-Am Competition at the Great American Beer Festival.
"This 5.4 ABV beer is perfect for the upcoming winter months, great for enjoying at breakfast, after midnight or any time of day," said Steph Amaral, President of the East Bay Homebrew Club, in a press release. "This is a huge deal for us as a homebrew club and our first major win."
Upon cracking open a tall boy of New England Breakfast Ale, aromas of roasted malt, coffee and a slight bit of maple syrup fills your senses. Brewed with a brown ale base, the beer is consistent with the appearance of a standard brown with a frothy tan head even though this beer was brewed with a few adjuncts of Grade A maple syrup and locally-roasted coffee.
The first sip brings these adjuncts together in a unique way. Its use of maple syrup melds nicely with the coffee and being that it's a brown ale, the nuttiness from the base beer compliments these flavors in a good way.
But since New England Breakfast Ale is essentially a coffee beer, only die-hard fans of this beer style will be clamoring for more than one can per session. We felt one can was quite interesting enough to finish the pint sized serving, but reaching for a second can will wait for another day, maybe this coming Saturday morning to fully embrace the beer's name.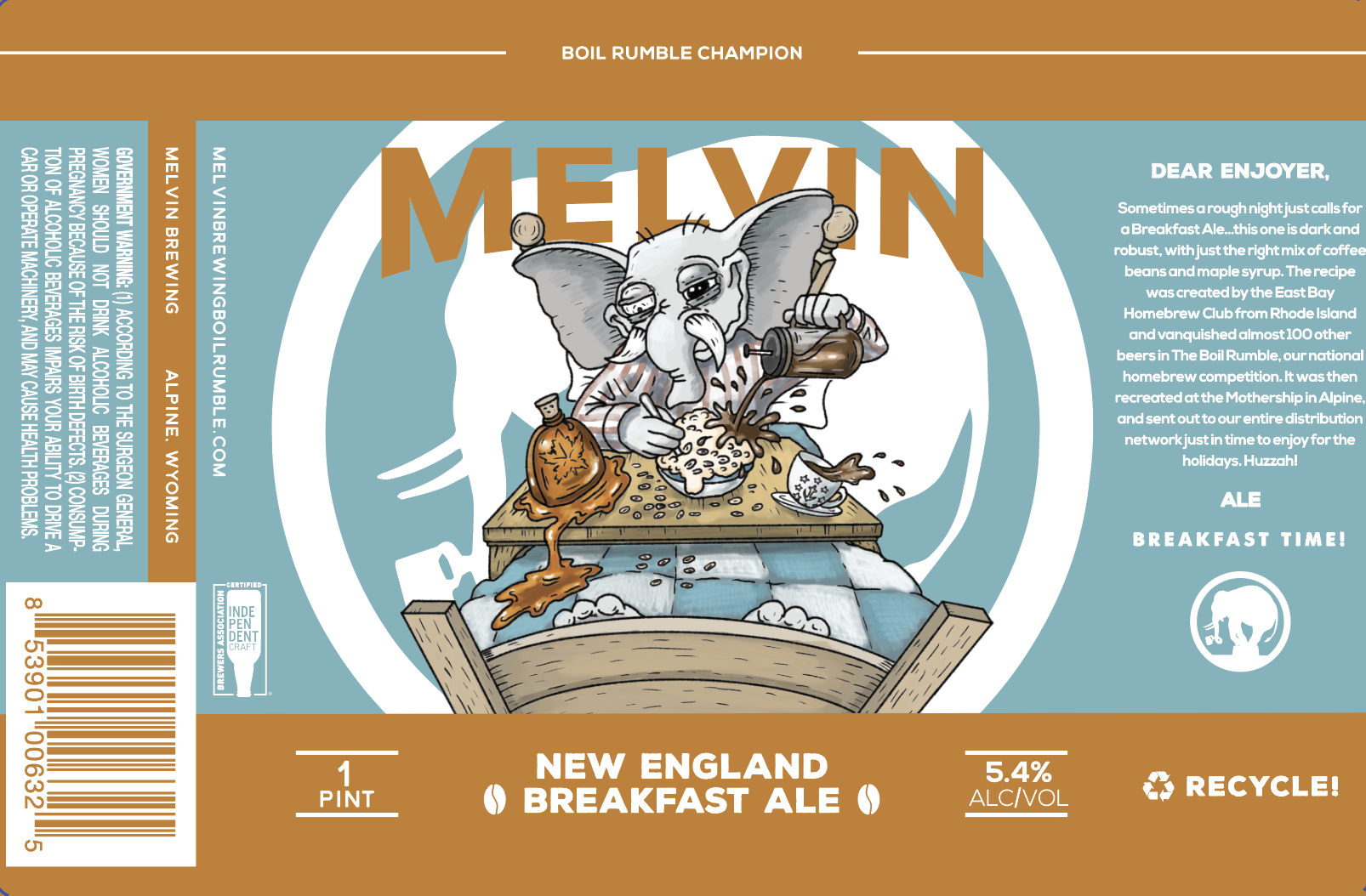 For Melvin, The Boil Rumble is an homage to its roots on a small homebrew system in the dry storage room of a restaurant, and a chance to make other brewers' dreams come true by supporting and encouraging the community from which so many outstanding commercial craft brews originate.
Based on the energy and success of the first Boil Rumble, Melvin, MoreBeer! and the Brewing Network are already planning to hold a second annual Boil Rumble in 2020. Stay tuned https://www.melvinbrewingboilrumble.com/ for entry opening dates and more!
You can locate New England Breakfast Ale or any other Melvin Brewing beer by using the brewery's BeerFinder2000.