Whiskey Wednesday – Trail's End 8 Year Whiskey
|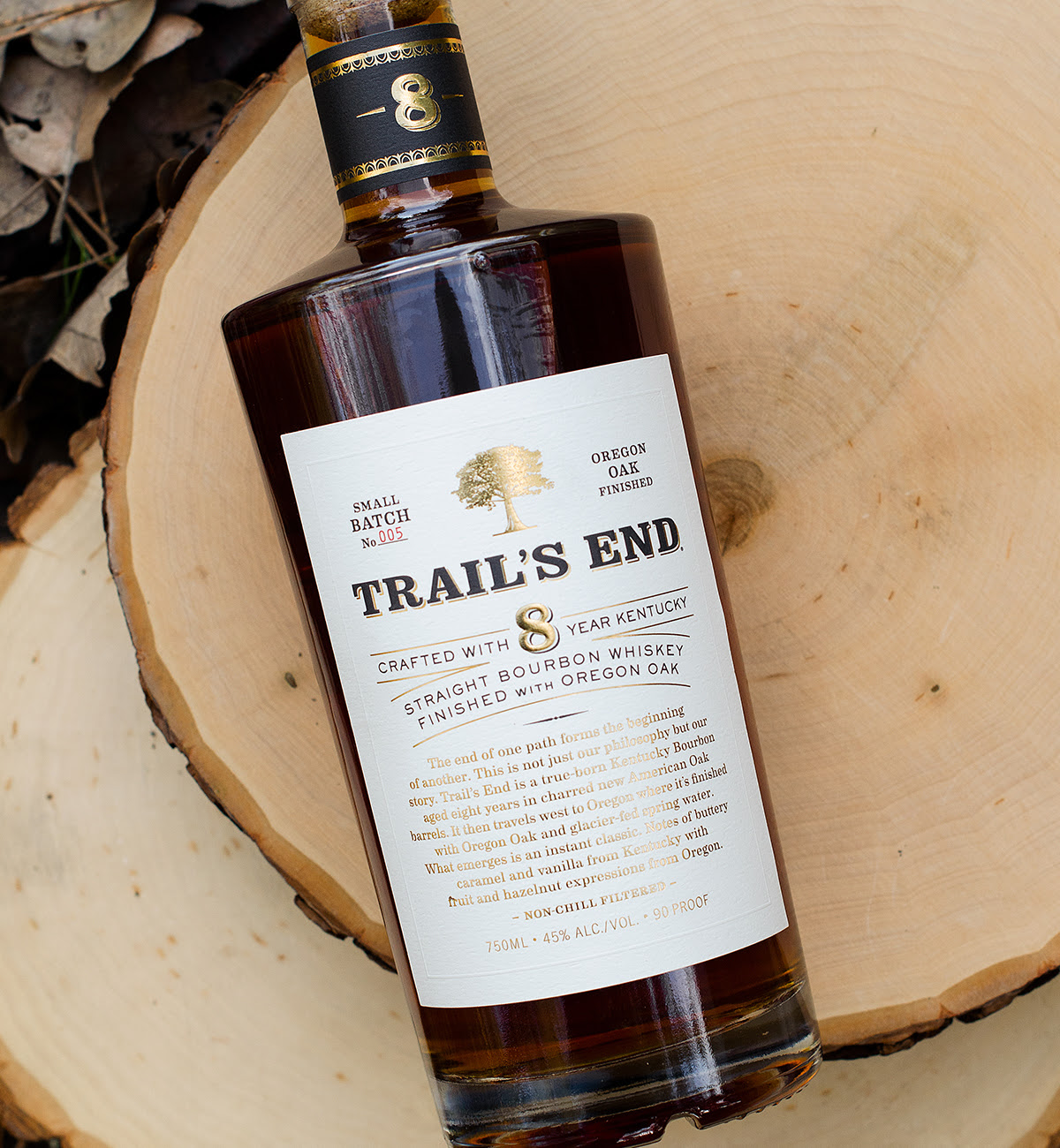 After garnering a handful of awards during the past few years, Hood River Distillers has released Batch #005 of its Trail End's Whiskey in 750mL bottles.
Trail's End Whiskey is an 8-year-old American Oak-aged Kentucky Bourbon finished in Hood River with Oregon Oak that sits at 90 proof. With the release of Batch #005, Hood River Distillers (HRD) has completed a label change to the whiskey. This new, updated label is much more noticeable and tells the story of this 8-year whiskey that begins its journey in Kentucky.
"With the new design we really wanted to tell the story of Trail's End and offer a more premium feel which is indicative of the liquid inside," wrote Zack Crowe, Marketing Brand Manager – Hood River Distillers, in an email to BREWPUBLIC. "Another key element we wanted to highlight is that Trail's End is as a true 8-year bourbon, whereas before that information was lost on the label."
With its beginnings in Kentucky at an undisclosed distillery, Trail's End begins with a basic mash bill prior to being placed into charred new American Oak barrels for eight years of rest.
"The mash bill is corn, malted barley and approximately 10% rye," stated Crowe. "Once the bourbon arrives in Oregon it is finished with Oregon Oak until it reaches what the distillation team feels is the best flavor profile for that batch."
The Oregon Oak used for Trail's End is sourced from Rick deFerrari at Oregon Barrel Works where it is air dried for a minimum of three years. This process tightens the grain, slowly ferments the natural sugars and properly cures the tannins. The use of finishing in Oregon Oak also brings forth the presence of vanilla and caramel that's usually associated with American Oak.
Trail's End Whiskey is a satisfying pour either neat or in a cocktail, such as an Orchard Old Fashioned. The nose is a nutty and floral with a bit of wood shinning through. Flavors of vanilla, caramel, maple syrup come forth, especially after the whiskey is allowed to open up. Trail's End finishes with a bit of spiciness that's a tad bit on the sweeter side that evolves into a dryer finish, likely from the two different oaks it was aged in.
Over the past five years, Trail's End Whiskey has garnered a few awards. Most recently it was awarded a Gold in the bourbon category from SIP Northwest, Best of the Northwest in late 2020. Other awards include Gold, Outstanding – Whiskies of the World (2018); Double Gold – New York World Wine & Spirits Competition (2017); 97 Points – Ultimate Spirits Challenge (2016); and Double Gold – San Francisco World Spirits Competition (2016).
Trail's End Whiskey retails for $39.95 and is available for purchase in the Hood River Distillers Tasting Room in downtown Hood River. The whiskey is also available at many Oregon Liquor Stores and can be located across the U.S. by visiting the Hood River Distillers' Where to Buy Page.